---
---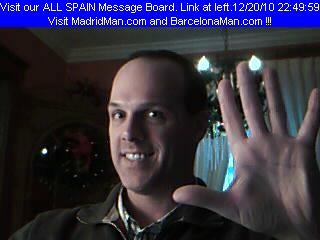 MadridMan is now

MadridMan'sMadrid 2000:
---
Updated while in Madrid October 2 - October 18, 2000
[9/28] You'd think preparing for a trip I've made 3 times already would be easy. But No! In fact, the more I visit Madrid the more I have to prepare. While I know I'll enjoy this trip to Madrid A LOT, the focus is shifting. Now, I'm going with additional hopes of accomplishment. With daytrip tours planned to Toledo and the "tren de las fresas" or "Strawberry Train" to Aranjuez (I've visited both previously), I will also be seeing the same wondrous sights, making the same wide-eyed walks through Madrid's old center. I'll be paying extra attention to detail with MORE video, MORE photos, and... oh.. experiencing ALL of Madrid's charms with renewed excitement. Enjoy this trip with me here everyday. Afterall, cyberly-speaking, you'll ALL be walking through Madrid WITH me. Welcome Spanish Classes of the world!!!
[10/1] Woo Hoo!!! Leaving for Madrid in only a few short hours and I'm beside myself with excitement. SO MANY DETAILS!! Can you believe my connections? I leave Columbus, Ohio for Cincinnati, Ohio and then on to JFKennedy (New York City) and from there to Madrid, arriving at 9am tomorrow. My video camera batteries are charged, camera is loaded with film, pads of paper and pens are ready for MUCH note-taking. While in Madrid, from time to time, I'll also be posting messages/replies in MadridMan's Spain Message Board. Ahhh... I can just imagine myself in Madrid now, walking under those Velazquez skies and saying to myself again and again, "I can't believe I'm in Madrid again!" Next journal entry probably (hopefully) tomorrow night.

Up! Up! And Away!! "¡De Columbus a la gloria (Madrid)!"
[10/2] I am in Madrid!!!! My 7-hour flight was ontime from JFK, but my bags were not. Seems the flight was full (of people and luggage) so they put mine on a different flight so I had to wait an extra 30 minutes or so, causing me to miss my AeroCITY 10:00am pickup so I called and they sent another about 45 minutes later. No problem. I was just happy to be IN MADRID! Ramón, the AeroCITY driver who didn´t speak any English and who said few did, drove me to my flat making conversation in Spanish about my previous visits, the traffic, and how much Madrid is building/growing. So I really haven´t done much while here, but my ladyfriend´s mother, the 76-year old "dueña de la casa" (the woman of the house where I´m staying) fed me like royalty with a large bowl of white beans with a big chunk of chorizo (a kind of Spanish sausage) AND THEN another large bowl of HUGE albondigas (meatballs). All this with my first taste of Spanish bread in over a year. I WAS stuffed! The, what was next? Answer: a siesta!! I slept soundly for 3-hours because it was IMPOSSIBLE to sleep on the overnight flight. Still, I enjoyed the flight more than any other because 1) I had my aisle seat, and 2) because I had one of those exit rows with TONS of legroom, and 3) because I was sitting next to another 30-something, from London, who is even better traveled that me! We shared our stories and love for Spain with great passion. Late this afternoon I accompanied La Dueña and her younger sister by bus to La Dueña´s daughter´s house we were met for the first time in about 16 months and had a nice visit. Upon returning "home" at around 9pm, La Dueña fixed a nice "light" dinner of the leftover albondigas, olive-oil fried potatoes, and a fried egg on top, along with bread (of course!) and my first Mahou beer since last year. Mmmm.. I´m so full and so happy to be here again in Madrid. The voices, the accents are music to my ears and in all honesty, when my plane landed on the Madrid runway I felt a huge release of anxiety and anticipation. I was actually close to tears. My heart beats faster when I realize that I´m here again and the things I´ll see (again) the following day. Now, it´s 10:30pm and La Dueña has sent me to bed, seeing how tired my eyes look. In many ways, I´m home again. How is this possible? I´ve only been here 3-times before. How can my passion for this city be explained? It can´t. It´s in one´s spirit, dreams, and soul. I feel myself becoming more Spanish by the minute! Goodnight!
[10/3] Churros anyone? I awoke at 8am. The house was quiet and the streets still somewhat dark from the low morning sun. I was hungry for something special. So after dressing quickly, I went down the 5 flights of stairs to the street where around the corner was Bar Paco. Why would I go to a bar at 8am? Because not only was this a bar, but it was also a churrería!! There were only a few people at the bar drinking their morning coffee, but I was there to buy 10 porras (which are similar to churros, but are larger - both are made in deep fried (in olive oil) batter and in the shape of a stick) for 200 pesetas (about .12 cents each!) and brought them back, much to the surprise of la dueña de la casa (the woman of the house). We both had café con leche and eased into the morning. A little later, made great efforts to "fix" the internet connection of their computer, but could not without the telephone number. So, I took the #31 bus to Plaza Mayor. Upon entering the sun-drenched plaza, I took a few photos and remembered all the times I´d been there before; MANY! Visiting the tourist office there I got a city map and headed to Puerta del Sol to look for the newly opened and humongoid EasyEverything cybercafé on Calle Montera ONLY to find they were having some technical problems and wouldn´t open for another 1.5 hours. SO, I headed back to the Puerta del Sol to tour the zone and found another small cybercafé JUST to the right of the clock building (El Edificio de la Comunidad de Madrid). It was a bit expensive so I just quickly check email, posted a "Hello! I´m here in Madrid!" message on "MadridMan´s Spain Message Board, and searched for this internet access telephone number for the home computer account. *Couldn´t find it*. Pues, bueno. So, after spending only 1.5 hours in only part of Madrid´s Old center, I jumped back on bus #31 and came home, ate a(NOTHER) big lunch of bread, garbanzo bean soup, and a Mahou beer while watching TV with La Dueña, Mama Rosa. Then what was next?? ¡Otra siesta! Only 2-hours this time so I´m getting better. Nothing more happened tonight, just talked with the neighbors from across the hall (Mama Rosa lives on the 5th floor of a 6-floor housing building, in a 2-bedroom house which she owns, has a smallish galley kitchen, small living room, and a terraza, or balcony, from which you can look out over the other rooftops in Barrio Lucero) and enjoyed a coffee and shared differences between our countries, talked about the common use of the internet in the US, our houses and backyards, how our downtowns, with the exceptions of the largest cities, close at 6pm, and how we have to drive everywhere to go anywhere or get anything, even to buy bread! It was an interesting discussion and they were very curious. Keep in mind that all this was in Spanish so my learnings were tested well, but I did well for myself. Tomorrow begins the day of "work". I´ll get up early to start my next MadridMan´s Madrid Video, Version 3, have my first bocadillo de calamares y una caña (fried squid sandwich and small glass of beer), and enjoy another WARM day in Madrid. ¡HASTA MAÑANA!
[10/4] (Listening to Onda Madrid radio 101.3FM while writing) Today was my first real day of "web-work" and man are my feet tired! Woke late to see somewhat cloudy skies so I was in no hurry to scoot out the door. Left the house at around 10am, got on the #36 bus from Pº de Extremadura to the Plaza de Atocha which is where I began my day. My first stop: The Atocha Train Station. This station is special in many respects, but mostly because it´s Madrid´s main train station and is the departure point to all southbound destinations including those for AVE (Spain´s, FAST bullet train) transports. I entered the old, original train station which has since been turned into a HUGE botanical garden complete with ferns, palm trees, and other temperate zone plants. It´s a beautiful, yet humid place for travellers to take a walk through the greenery or have a coffee at one of the many cafés with a nice view while waiting for their train to left/come. Next, I went around the Glorieta de Carlos V (also known as Plaza de Atocha) and walked up the steep street of Claudio Moyano where 20+ adjoined "stores" sell their books, mostly used, to passersby "como yo". Turning left at the top of the hill on Calle de Alfonso XII, I passed by the "always closed for renovation" Cason del Buen Retiro museum on the left and entered the Botanical Gardens of Retiro Park on the right. My goodness that place is pretty, perfectly manicured, flowers everywhere, and very calming. Upon recording the area for the next MadridMan´s Madrid Video I continued uphill to "El Estanque" (the lake) of Retiro Park and saw Alfonso XII atop his horse, ever watchful over his one-time royal playground and the autumn colored leaves of a few trees. The day was perfect for this walk today. The sky was clear. The temperature around 75-80ºF in the afternoon, but the morning was quite chilly. I was SO happy to walk around the lake, look at the swimming ducks and a few couples rowing along with no hurries or worries. From here I walked to the Palacio de Cristal (Glass Palace). This is one of my favorite places in all Madrid and it did not disappoint today. The fountain in the pond was shooting HIGH above the top of the palace, ducks, geese, and turtles were swimming about, and locals were taking a stroll under the shade of the tall, old trees. Continuing east through Retiro Park, I encountered for the first time Las Rosales (the rose garden) and it was so pretty. Many of the roses were still in bloom and it smelled incredible!! By this time, it was about 2:30pm and I promised la dueña de la casa (who is, by the way, the mother of my ladyfriend) that I would be home for lunch so returned to the Plaza de Atocha and stopped into my favorite place, Bar Brillante, for a couple cañas de Aguila (small glasses of Aguila beer) and was served a saucer tapa, free, of one green olive and a small smelt with each glass (total: 320pts - I think). I REALLY wanted to order a bocadillo de calamares as this place specializes and is famous for these fried squid sandwiches, but no. I had to wait. My feet were tired and I was happy to get a seat on the #36 bus back to the Pº de Extremadura where I walked home to (ANOTHER!) huge lunch of garbanzo bean & chorizo soup and went straight to bed for a 2-hour siesta. Mmmm... It´s great to wake up in Madrid. Tonight I´ve done nothing, but make calls to internet "friends" who live here and made arrangements to meet them for the first time. For example, I´ll be meeting Roger of GoMadrid.com tomorrow for lunch along the Gran Vía, tomorrow night I´ll take the Wellington Society WellTours of historical Madrid with the famed Stephen Drake-Jones, and made arrangements to meet Rafael in the Puerta del Sol Friday night. Rafael lives here in the same barrio of my ladyfriend, where I am now, but I´ve only "met" him through the internet. So that´s all....so far. I´ll have A LOT to tell you tomorrow night. Until then!
[10/5] My goodness! That was scarey! So sorry, folks, about the snaffu with the this page recently. I was attempting to upload the file via a bad connection and an old 14.4 modem. I was able to find out how to do it through the EasyEverything cybercafé on Calle Montera, 10-12 just a few steps north of the Puerta del Sol. My goodness. What a relief. I went from having 150 hits per day to NONE! ARGH! Well anyway. So everything is GREAT here! WOW! What a day. Ready for this? Started the morning EARLY! Got up at 6:30am, showered and ate quickly and got to the bus stop on Pº de Extremadura and arrived near Plaza Mayor by 8:30am, passed through the cool morning air to see few people up and about. Walked by the Puerta del Sol and followed Calle de Jerónimo (will have to check that street on the map) past El Congreso de los Diputados and there seemed to be some hubbub with police cars, police helicopter hovering overhead, and sirens everywhere.. I really don´t know what happened. Continued on to the Plaza de Cánovas where you´ll see the statue/fountain of Neptune which faces the post Palace Hotel. Followed Pº del Prado to Plaza de Cibeles and stopped into the Palacio de Comunicaciones to buy 10 postcard stamps (115pts each to the US). Walked uphill to the Puerta de Alcalá and enjoyed the view of La Cibeles through one of its arches. Then, up Calle Serrano and past my favorite museum in Madrid, El Museo Archeológico whose fachada (entrance/face) was en reformas (under renovation). What a shame. Oh well. Walked past to the Plaza de Colón and enjoyed the backlit sight of Christopher Columbus atop his tower with the sun rising above his. Returned to Plaza de la Cibeles where crossed Calle de Alcalá by way of an underground walkway and saw a number of homeless persons sleeping on the cold cement, in boxes, on portable mattresses, etcetera. Up the hill to the famous intersection of Calle de Alcalá and the Gran Vía, taking a moment to admire the Metropolis building with its winged angel on top. Took the Gran Vía, stopping a couple of times to visit some of the hostales along the way. Went as far as the Plaza de España, visited with Miguel de Cervantes for a few minutes and shook hands with Don Quijote and slapped Sancho Panza´s mule on the rump, but he wouldn´t budge. hehehee.. Met with Roger of GoMadrid.com at (will fill in name later) and had a GREAT visit talking about our websites, how we got started, and how fortunate he is to be English and thereby having fewer hurdles to overcome to legally find work in Spain. We both had the same menú del dia (menu of the day) for 1250pts (about $7) of grated cheese over potatoes and ostrich meat with peas, green beans, and stewed carrots. We also shared a bottle of red wine as well as our hope for the future of our website. It was a VERY enjoyable meeting and I´m sure I´ll be seeing more of Roger during future visits to Madrid. After this wonderful lunch (thanks Roger!!), I met a the friend of my ladyfriend who is also a madrileña. She and I met at Kilometer 0 on Puerta del Sol @ 4pm and stopped into a bar around one of the corners, drank a café con leche (coffe with milk) and talked for 4 hours at least! I left here there (how UNgentlemanly!) because I still needed to go "home" to get my change of clothes for tomorrow and to put on my out-on-the-town clothes. She was right where I left her 1.5 hours later and she took me to a very nice, typical Spanish restaurant, off the beaten path called Hylogui on Ventura de la Vega, 3 - just about 4 blocks east of the Puerta del Sol. I had the tortilla de gambas (shrimp omelet) and rosted lamb with potatoes and she had the salad and calamares. SHE PAID TOO! Sheesh! She´s so nice. So that´s that! She got on a 11:30pm bus to go home and I´m here in EasyEverything cybercafé almost 2:00am writing this update. Lucky for me my hostal is JUST off the Puerta del Sol. But still, there are TONS of people still walking in the street and this place is nearly full!! Time to go to bed. Goodnight!
[10/6] Word for the day: TIRED! But in a happy way. hehehe.. Slept until about 9am at Hostal Aresol on calle Arenal, 6 - 3rd floor, my hostel/hostal for the night (4000pts for a single). What a GREAT location!! Really! Just a few steps from Puerta del Sol and just around the corner from the Joy Eslava nightclub (I haven´t gone...yet). José, 20-something and who speaks basic English, was very nice and friendly. Having my big camcorder bag and another overnight bag I just did some basic touring around Puerta del Sol and Plaza Mayor and was sad to see them assembling some kind of exposition in the center of the Plaza. I hope they finish and it ends soon. Simply went "home", made some coffee, and relaxed for awhile. I leaned out the 5th floor balcony and watched a woman hang clothes outside her window from her 3rd floor flat all the while hearing some semi-loud but distant, middle-aged woman singing in typical old-style slow flamenco with only guitar and trumpet accompaniment, probably played by LP record. Then I took a nice, slow walk through Barrio Lucero, the neighborhood where I´m staying along the Pº de Extremadura. I took my camera and got some shots of the main bar on the corner, Bar Lucero, did some windowshopping for a new pair of black leather shoes (at the same shop where I bought my Fluchos, brown leather shoes last year), visited the main neighborhood market (this is at about 1pm) and enjoyed A LOT watching mainly older women standing in lines for their daily, fresh seafood, fruit/vegetables, and meats. What an unsual sight for those of us from the USA! I love it!! Upon returning home, La Dueña was already there and ready to fix my lunch of brown rice, chicken chunks, a fried potato on top of all that, and finally a larg dollup of thick tomatoe sauce. MMmmmm.. If anyone needed a siesta after that meal it was me!! Two hours was enough this time, but I woke, dressed, packed my bag and headed to Hostal Dulcinea. I was a little late because my bus to Plaza Mayor via Calle de Segovia was halted in thick traffic going up the hill towards the Plaza. Arriving at Hostal Dulcinea, watched a little of "¿Quien Quiere Ser Milionario?" (Who Wants To Be A Millionaire?), but the from-Spain version! I attempted to ponerme guapo (dress attractively) in long pants, shirt, and my trusty Fluchos shoes. Walking through the BEAUTIFUL, active, old streets of Huertas, I arrived at Puerta del Sol empty-handed and waited for my 9:15pm meeting under "El Oso y El Madroño" (The Bear and the Berry Tree) statue for 21-year old Rafael who lives in Barrio Lucero as well. Upon him finding me (since I didn´t know what he looked like) he walked me down Calle de Alcalá to Plaza de la Cibeles and we had a GREAT nighttime view of the illuminated Goddess Cibeles and the Palacio de Comunicaciones or the main post office. Rafael walked me for almost and hour through the Latina district until we found Panteon (Pantheon) Greek Restaurant, one of his favorite places. We both had the gyro dinners, but they were served with the meat, onions, tomatoes, sauces, and lettuce on a plate and you could roll it in the greek bread if you wanted. We talked over dinner until about 11:30pm and went out walking again. He kept reminding that he loved to walk a lot and WOW! He really tested me too! We walked seemingly further away from the city center and then, suddenly, we were at the Las Ventas, Plaza de Toros bullring on Calle de Alcalá. It was really very pretty all illuminated as it was. We crossed the bridge over M-30 (one of Madrid´s outerbelt highways) where we caught a Buho, nighttime bus to Plaza de la Cibeles. By now it was 12:30am and I was very very tired. He walked me to Hostal Dulcinea and said our goodbyes. I went to bed almost immediately and wrote in my journal about all the interesting things I had done that day.
[10/7] WOW! Wait ´til you read what I did today/last night. I´m actually writing this during the afternoon of 10/8, Sunday afternoon, it´s that I just got home a little while ago. Referring to Saturday morning, woke up more or less late at Hostal Dulcinea and slept very well in the double room, facing Calle de Cervantes, 19 - 2º and luckily the large, thick balcony doors prevented much of the morning street noise. I showered, dressed, and went across the street to Hostal Gonzalo and spoke with the owner of the hostel for awhile about things. Checked out of Hostal Dulcinea and went to the EasyEverything on Calle Montera, just above the Puerta del Sol to write and upload the journal entry for the previous day and rushed home on the standing-room-only #31 Plaza Mayor bus with my big camcorder bag and overnight bag to arrive at home here in Barrio Lucero at 2:30pm, call Florencio, the son of Hostal Lopez where I was staying that night (Saturday night) because we were to meet for lunch and spend the day together. Well, it was late and I was at home anyway so I called him to say I would eat, rest, repack the overnight back and come to see him at Hostal Lopez at around 6pm. Here at home, La Dueña de la casa made a wonderful meal (yes, another!) of puré de alubias verdes (sauce of green beans), fried potatoes, a fried egg, and a fried pork chop. Ahhh.. She takes such good care of me, de verdad! Next, a siesta for 2-hours, get up, and go to Hostal Lopez. Arriving at about 6:30pm, they were all waiting for me and welcomed me with open arms. I hadn´t seen Florencio, the 28-year old son, for 1.5 years and the same for his family. Florencio, who was home for the weekend from his job in Amsterdam, his sister Nuria (who answers all the email and telephone calls in English), and his parents are all so so SO nice! They sat me down and we ate fresh langostinos (like large, cold shrimp in-the-shell), chorizo and jamon serrano slices, and drank some good wine from the north of Spain and talked a long while. They showed me to my large, 3-bed room, the largest in Hostal Lopez because it was the only room they had available, and then Florencio and I left to start the night. It was about 9pm and we walked through Huertas to Café del Circulo de Bellas Artes, and old museum turned café (I believe) and the HUGE windows facing the calle de Alcalá provided a wonderful view of the landmark of the Metropolis building and Gran Vía intersection. After only a café con leche (I hadn´t had a coffee yet and was getting a headache), we went to Cochtelería Chicote not far from there (I´ll have to look up the address later - sorry group!) which was famous in the 1950s and was popular with such people as Eva Gardner, Orson Wells, and Ernest Hemingway. We admired the photos on the wall and had a drink and went off to the next place, El Viajero, a bar with three floors and we to the open terraza on top and had a GREAT view of the illuminated The Church of San Francisco El Grande and also the illuminated Church of San Isidro. We enjoyed one drink here while waiting for for our 11:15pm reservation at Restaurante Casa Lucio just around the corner. We arrived on time, but waited for one hour for a table to come available. So it´s now 12:15-12:30am and we´re just sitting down to dinner! WOW!! Florencio say it´s not really normal to wait so long, but it was a popular place with Spaniards especially on the weekend and isn´t touristy at all, with good, typical Spanish food, but somewhat expensive. We were seated on the 3rd floor by the window and ordered, to start, the huevos revueltos con patatas (broken fried eggs over fried potatoess). Next, we had the steak which came in large, thick slice. It was very rare and they gave us both HOT HOT HOT ceramic plates onto which we put 1-3 slices and grilled them ourselves on these steaming hot plates. This alone was an experience. With the meal we had a very good wine (I´ll have to fill in the name later) from Cataluña. Finally, we skipped the postre and went straight to the coffee with steamed milk and a kind of shot of strong, yellowish alcohol that normal to have at the end of a good meal. We even saw a very old and short man by the name Vitorino who, as Florencio told me, was the breeder of the best bulls for bullfights in Spain. We left "dinner" at about 3am and there still many people eating and/or just sitting around their tables and talking. Amazing to me. We then walked through the Plaza Mayor to the discoteca Palacio Gaviria (site working sometimes) on Calle Arenal, 9 (2,500pts or $13 to enter, but the first drink was free) which was an actual royal palace in the 19th century. It was just beautiful!! Crystal chandeliers, tapestries and large, old paintings, many many marble columns. This discotec was packed! It had many many rooms, some for just sitting and talking and 3 other larger rooms for dancing, but with different kinds of music, depending on the room: Spanish pop music, salsa, and techno. We danced in them all, but preferred the techno because the room was larger and was air conditioned. ALL rooms were full of people until we left at about 6am. We tried to go to the nearby Chocolateria San Gines for churros and chocolate, but this popular place was FULL FULL FULL of people! It was impossible so we just went home, walked through the empty Plaza Mayor after they had "washed" the cobblestones and I got to bed at about 7am and slep for 4 hours. Enough for now. More later about Sunday, October 8.
[10/8] After only 3.5 hours of sleep in the very quiet room at Hostal Lopez, I woke at 10:30am, showered, dressed, and went downstairs to the hostal salon for a nice breakfast with Florencio. I said my goodbyes and gave my thanks to the family and Florencio walked me to the Plaza Mayor bus stop where we waited about 25 minutes for the #31 bus to Paseo de Extremadura. I extended may great thanks to Florencio for an adventurous night out on the town as I´ve never had before in my life. I was sad to say goodbye to him as he´s been such a good friend to me over the years and to my ladyfriend here in Madrid with helping with her computer and software installations. Arriving at "home" at 1pm sharp, I was SO exhausted, skipped lunch altogether, and went straight to bed where I slept until 6pm. Got up and visited here for about 3 hours with my ladyfriend´s aunt (she´s about 70 years old) who lives in the adjacent building and with my ladyfriend´s mother, La Dueña de la Casa. We talked about their lives in Spain, their marriages and how their husbands passed away, and many other things. One particularly interesting account was about the 3-months Mama Rosa (la dueña) spent in the mountain caves of Santander (Cantabria - Spain´s north coast) with about 65 others during the Spanish civil war in the 1930s. What an interesting, but terrifying story she has from when she was about 12 years old. Tía María, the aunt, left at around 10pm and Mama Rosa and I had dinner of a tortilla francesa (an egg omelette with ham slices inside), chorizo slices, potato chips (made with olive oil), bread, and a pear for dessert. It was a delightful evening talking with abuelitas (little, old women) and their life in Spain and how things have changed. And so here I am writing about it all. I needed tonight to recover from last night and a busy weekend of touring, walking, recording, and eating a lot! Tomorrow begins another busy day. Better get to bed and dream about Spain and the things I´ll enjoy here in Madrid tomorrow. Mmmm... Madridth.
[10/9]Sorry to bore you all, but I did relatively nothing today. REALLY! I took the bus into town late in the morning to upload yesterday´s journal entry at the EasyEverything cybercafé and really little else. Talked with several people on the telephone and am surprised with how much my Spanish has improved since my last visit here 16 months ago and even since I arrived last week!! Just goes to show that immersion is the best way to learn a language (are you reading this, Spanish students??!). I´ve met people who came here (to Spain), only had English speaking friends, and really learned very little. THIS is the way. I have only spoken with a few English/Americans, but about 95% in Spanish, making mistakes, and learning as I make them. Went "home" in the early afternoon and ate very little of the dinner Mama Rosa was kind enough to make for me, fried potatoes and 3 filets of pork and ate very little of it. I really think my stomach was recovering from the busy night/morning I had with Florencio. So off to bed with me to take a THREE HOUR SIESTA!! Woke up at about 7pm and didn´t have the energy to go out again so I just stayed in bed and watched some TV. Mama Rosa came home around 8pm and we talked for awhile, I ate what was left of my lunch, and I went back to bed at around 9:30pm and watched a movie until 11:30pm and went back to sleep. Sorry for the boring day! I promise tomorrow will be more interesting! I´ve GOT to take advantage of what few days I have left.
[10/10] It´s about 9pm as I write this. Imagine my happiness. I sit here, drinking a Mahou beer, it´s a cool, breezy day, there was a beautiful sunset tonight, and I had a wonderfully productive day that included some surprises. The day because relatively late at 9am (I slept a whopping 9.5 hours!!! - guess I needed it) and had a simple breakfast of Special K cereal at the narrow, galley-kitchen table. After showering and while dressing, I heard a familiar LOUD voice from a passing van with loudspeaker from the street. It shouted something like, "EL TAPICERO! EL TAPICERO! TODAS MUJERES BAJAR A LA CALLE CON SUS SILLAS, COJÍNAS, Y...." ("THE UPHOLSTERER! THE UPHOLSTERER! ALL WOMEN COME DOWN TO THE STREET WITH YOUR CHAIRS, CUSHIONS, AND..."). I´ve heard this before from El Frutero ("The Fruit Man"), but never from El Tapicero ("The Upholster Man"). I asked Mama Rosa about this and she said she remembered years ago that men would come down the street and offer their services to beat your mattresses, cushions, and blankets or even charpen your knives, or clean your windows, etcetera. Ahhh... this is something you´d NEVER see in the USA. So anyway, I made it to the end of the #31 busline at around 11am and walked to Plaza del Ángel, which is just to the side of the Plaza Santa Ana. I visited several of the hostels/hostales of the Madrid Hostels page. I also stopped by the Cervecería Santa Ana to have a café con leche. Was hoping to catch Shawn of Toronto there, but I was entered being the only customer. Next, I walked down calle de las Huertas at around 12:30pm to Hostal Lopez to visit with Florencio´s mother & father and they, being the sweet, hospitable people they are, sat me right down, and started bringing FOOD as we talked (in Spanish) about how busy was the hostel and how most of their visitors are from the USA, England, Spain, and France. We sat, had beer and cheese, jamon serrano, chorizo, about 4 other kinds of sausage, and finally coffee with milk. I was also honored to handle one of their calls in English of someone who wanted to confirm their room for tomorrow night. Nuria, their daughter who usually handles the calls in English, wasn´t at home so they asked me to do it. The same happened when a couple of British girls came by asking if Hostal Lopez had any vacancies and I/we tried to help them with some other possible hostels in the area. I said my goodbyes, and made my way through Huertas to the area behind the Congreso de los Diputados and then on to Puerta del Sol, stopping on the way at one of Madrid´s many Museo del Jamon for a(nother) coffee with milk. This is an amazing chain of restaurants/bars in Madrid with 100s of hanging jamon serranos from the ceiling. Afterwards, walked through the Puerta del Sol to the Plaza Oriente and the Palacio Real. After taking a short walk around the royal area, I headed back towards the national Opera house when someone in shorts and riding a mountain bike rode towards me, stopped, and asked in English, "Hey. Are you....MadridMan?" (actually, he used my REAL name) I said, of course, "Yes!" What a surprise!!! It was Jeremy of New York of Ole Idiomas, a search engine of language schools in Spain. We had exchanged a few emails and so we decided to have a drink on the terraza/terrace of "Taberna del Alabardero" (Felipe V, 6) with a view of the Royal Palace and next to the National Opera House. (break in the action: as I write this at 10:15pm, a movie is starting on TeleCinco TV, an American movie as always, but at 10:15pm?? Isn´t this an odd time to start a movie??) We talked about his website, his work with other Spanish computer companies and schools, and how he´s able to make a living in Madrid. Seems he was born in Scotland and so he has European citizenship and can more easily get a work visa. After talking for a long while, I made my way back to the EasyEverything cybercafé to upload YESTERDAY´S journal entry. The place was FULL and the line was long, but I HAD to get the journal uploaded. Upon leaving, it was getting dark, and the most beatiful sunsent passed down below the Casa de Campo park as I saw it through Calle Mayor. At about 8:30pm, grabbed the #31 bus back to the Pº de Extremadura and listened to a couple college-age girls talking about English grammar. One asked the other if this-or-that was correct and I really wanted to turn around and help. I´m sure it was obvious to them that I was "American" with my shorts, sport socks and tennis shoes, and video camera bag around my neck/shoulder. Reaching my stop at the top of the hill, I exited, crossed the street with the crowds, both young and old out for their evening walk, and made my way through the neighborhood. It was at this momement with the cool, strong winds blowing past me and a dusk-sky above that I thought to myself, "You know, these people REALLY know how to live. To live life with activity, interaction, appreciation for family, friends, and strangers, and to want nothing more than to be happy and BE OUTSIDE with their neighbors." I can´t think of ANYPLACE in the USA that has this atmosphere. While walking, I felt as if I was glowing with happiness, with pride that I was allowed to be here in this simple, working-class neighborhood of genuine people. I was/am SO happy. I believe I could live here with simple happiness. But without computers, fast & free internet connections, or spending hours in front of a computer as I am accustomed??? Is it even possible, in a time-management way, to somehow combine the two? Now THAT´S the REAL question. I´d like to find out someday. Tomorrow night is the "Party With MadridMan: Version 2" at El Brillante!!!! Until tomorrow, or more likely, Thursday night!!
[10/11] This is/was the "Party With MadridMan: Version 2" at the famed El Brillante bar/eatery!! Actually woke up early, opened up the window and stuck my head out only to see it steadily raining, cold, and VERY windy. Hmmm... This was NOT a good day to go touring (guess I´m not a hardcore traveller, eh?). So I went back to bed for a couple more hours, watched a little morning TV, and started looking through my Madrid books. Upon reading a description about the Palacio Real (Royal Palace) and got the idea to invite the two abuelitas (little, old women: Mama Rosa and her sister Tía María) there for a guided tour through the palace, something they haven´t done for years and years and something I´ve never done. The rain had stopped and we arrived in time for the 12:30pm tour (1000pts entrance - free for those over 65 years old like the abuelitas, + 1000pts for the guided tour) and our guide told us (all in Spanish because the abuelitas don´t speak English) about the different bedrooms, the dining room, and the games rooms. In all, we probably passed through about 15 rooms, a small fraction of those in the palace. We enjoyed ourselves a lot and afterwards stopped into a small bar next to the national opera house for a drink and then grabbed one of the local busses at the Plaza de Opera. Came home, said hasta luego (see you later) to the Tía María, had very little lunch, and took a much wanted 2.5 hour siesta. Got up at 6pm, dressed, and packed for my night, staying at Antonio´s famed Hostal Chelo on Calle Hortaleza, just north of Gran Vía. Arrived at 8pm after searching high and low for a Caja Madrid ATM machine that didn´t have a 5-person waiting line and met Antonio and his parents for the first time. What a nice, kind family!! They proudly showed me their entry with Madrid tourism information, a few rooms, and I then attempted to "ponderme guapo" (make myself attractive) for the party at El Brillante at 9pm. Antonio and I took the Gran Vía metro and got off at the Atocha metro stop, very near El Brillante. We were about 10 minutes early and, like good "Americans", people were coming like machinegun fire ON TIME! I shouldn´t have expected anything less. A few more people showed up in the first 20 minutes and before we knew it we had about 6 tables together on the terraza/terrace and maybe around 25 people including such notables (including Atonio and me - hehehe) as Nuria from Hostal Lopez, Rafael, Roger of GoMadrid.com and his wife, Bernd from =elemadrid= language school and his girlfriend, a woman (a journalist, whose name escapes me!) from the Spanish newspaper El-Mundo, Ándres of Walks Of Madrid pub crawl tours, Rich, Kelly, Mark, Julia, John, and so many others. We had a great time until people started to leave at around 11pm. My friend Nieves, from Madrid, unfortunately came after we all left. The small group of us (Nuria, Rafael, Julia, John (from San Francisco and the only non-Spanish speaking person of the group) and Ándres went to three places in the Huertas area including: La Taverna de Cervantes, Los Gatos, and Torero, a discoteca/bar playing Spanish dance music (and EVERYONE was dancing!). Leaving Torero at about 2:30am (early, but it was a national holiday tomorrow: Dia de la Hispanidad and also the patron saint day of Zaragoza: Pilar), it was raining pretty steadily and only Rafael had an umbrella so, like the gentleman he is, raised his umbrella for the ladies. First Ándres split of towards his car and soon after Nuria, and the rest of us went to Antonio´s car, parked near Hostal Chelo and drove Julia and Rafael home. So Antonio and I got home around 3:30am and I went immediately to bed in my room at Hostal Chelo. There, I slept very well in "home" comfort until morning.
[10/12] After a good night´s sleep in one of the two twin beds at Hostal Chelo, got up, dressed, and met Antonio in the reception area at 11:15am. Under the new, morning sun on a very cool day, he took me to a popular churrería in the neighborhood and we had porras and (hot!) chocolate. Mmmmm.. Delicious! From there we went to Plaza de Colón (Christopher Columbus) to watch the parade of soldiers, tanks, and other military installations march/roll down Pº de Recoletos. From a distance, I saw King Juan Carlos I saluting the passing troops as they marched in perfect order as far as the Plaza de Cibeles. There were also many MANY "fly-overs" of fighter jets in formation up the Pº de la Castellana and some trailing their color-coordinated smoke to make the colored (red-yellow-red) stripes of Spain´s flag. It was an interesting sight!!! Went back to the the hostal, got my things, and this time ANTONIO walked me to my bus stop near Plaza Mayor. We talked for awhile and I said my goodbyes as the bus arrived, promising to stop by again before leaving. Got home, had really no appetite, and stretched out on the couch as Mama Rosa played her juguetes (as she calls them, but "juegos" or "games" is the more commonly used term) on the computer (solitaire, Mahjonng, and White Cards). She finished and I went straight to bed where I slept for about 2 hours and got up just before Tía María arrived. Today is her Saint day, Pilar, because her name is Pilar María, but goes by the name María. She invited us to "menendar" (late afternoon snack & drink) as is the custom on your Saint day. We took a bus to Mama Rosa´s daughter´s (and son-in-law and grandson´s) house and the 6 of us had drinks and patatas bravas (quarters of bolied potatoes with a spicy red sauce ontop - one of MadridMan´s FAVORITE Spanish foods!). After, we went up to the daughter´s house, talked, and I tried a new food/snack called altramuces, but they described the meaning of their more common name, chochos (ummm.. I can´t really give the real meaning here, but it is a large, soft, yellow, corn kernel-like food -- very good, but you have to squish off the skin with your fingers as they can cause gas). Alicia, Mama Rosa´s daughter and the sister of my ladyfriend, drove us home and ate just a few croquetas before coming to bed to write this journal. What a nice day it was too! Perfect jeans, shirt, and sweater day. Until tomorrow!!
[10/13] Today was a day of "rest". And you say, "What??! Another?!" heheehe.. Feeling less than 60% at traveller´s capacity, I stayed home the whole day, never leaving once, just talking with Mama Rosa (and her visiting daughter Alicia) and Tía María about everyday life here in Madrid. I also watched a lot of TV between naps including part of a show featuring dolls (more like puppets) sitting at a news desk, acting very professional, and giving the news in a tongue-in-cheek manner. All on-the-spot interviewers and features are done with these same dolls/puppets. As every year here, I´m a little surprised to see SO many programs, sitcoms, dramas, and movies from the USA dubbed with Spanish. Unfortunately, in my opinion, many of these shows are of the worst quality even in the USA. I also encountered a bullfight on TV from Zaragoza for their saint´s day yesterday (Pilar). I went to bed early, read through some more of my travel books about Madrid, and hope to sleep semi-soundly. I´m hoping for more out of my travel-tired body tomorrow. 8-)
[10/14] Took a nice, long walk through the barrio (neighborhood) this morning under a bright sun and cool skies. Saw a long line of 25+ people waiting to buy either pizza or empanadillas at Productos Zamal before they closed. Mama Rosa tells me they make the best empanadillas in the neighborhood and since they close at noon on Saturday and closed on Sunday people line up down the street to get what they need. But don´t worry. These people weren´t bored while waiting. They were all chatting with one another, passing the time, carrying their own plastic bags for their purchase. I could easily imagine a similar line in the USA, but with everyone looking at the back of the head of the person in front of them and being perfectly silent. Walking a little further, I entered a market I´d visited many times before and saw the lines at the "booths" of the pescador (fisherman), frutero (fruit-man), carnicero (butcher), and so on. The place was abuzz with activitely, the fishmen seemingly arguing with the clients about how fresh was the fish and/or how much of THAT fish could be sold, small children calmly at the hands of their abuelas (grandmothers), and a few older men talking loudly at the small bar in the corner while their wives shopped. Continuing on down the street, I window-shopped at the same shoestore where I bought my Flutchos last year and chose a black pair of leather shoes. I tried them on, loved them, very nice, and bought them proudly. Ahhh.. Another pair of Spanish shoes. I still want to buy a new belt. Walked a little further, but not far, and started counting the bars just for fun. 1... 2... 3... and on and on. From street corner to street corner - on average - I must have counted no less than 5-bars, sometimes they were next door to each other, their doorways maybe only 6 inches apart. And they ALL had people in them drinking a small beer or coffee or having something small to eat. (this was all at around 11am-11:30am) Stopped into the florista (florist) and found it interesting that while they did sell plants, and some fresh flowers, the majority of the displays were of artificial flowers and plants, all very beautiful! Arrived home with my shoes, climbed the 5-flights of stairs, and proudly began showing Mama Rosa my purchase. Took the box out of the bag, read on the bottom of the box (in English) "Made In Spain". I opened the box and showed them to her. She was impressed as I was and they were so cheap, lightweight, soft leather and a very cushioned insole. I turned them around for her, looked at the sole and read, in English, "Made in UE" and immediately thought, "What? Made in the Estados Unidos?" Then I realized that it meant, I thought, "Union Europeo". I´m still not sure. But it doesn´t seem that they were made in Spain - maybe only THE BOX was made in Spain?? So anyway, I skipped lunch and took a nice 2-hour siesta before getting picked up by Mama Rosa´s daughter Alicia who was waiting downstairs. We got our things together and went to the car to find Pablo (Alicia´s son - 2.5 years old) and Pedro Pablo, her husband. Drove off, got on the M-30 highway, drove past the Atletico soccer stadium, and out of town past the Torrejon air base and stopped into the town of Torrejon to visit a friend of Alicias. We parked, I asked where we were, and Alicia said we were there to visit her friend for 5-minutes. Well..... I knew immediately that the Spanish equivalent of "5-minutes" was more like one hour and I was almost exactly correct. It was nice to meet her and her extended family though, 3-generations living in one house. Soon after leaving, passed Barajas airport (it´s possible I have the locations of Torrejon and Barajas mixed-up) to Alcalá de Henares, the town where Miguel de Cervantes (author of Don Quijote) was born/lived. We went to Alcalá to visit Alicia´s cousin Olga and her husband Onan for the evening. Little Pablo played while the adults tried to talk over his screaming and other antics and the doctor Onan consulted Mama Rosa about her cough. We had a nice visit, talked about their recent visit to Galicia and the things I had done so far on this trip, and we left at around 9pm for "home". Mama Rosa and I had a light dinner and went to our respective bedrooms for a good night´s sleep.
[10/15] Beautiful day to begin and a somewhat rainy/cloudy day to finish. All in all, it was a nice day. Slept late (again!?) & spent most of the morning just talking with Mama Rosa about her two daughters (one of whom is my ladyfriend and the other is Alicia). Mama Rosa told me about her own fear of the dark and strange noises because of her time spent in the caves in Santander during the Spanish Civil war and how happy she was that her daughters were always comfortable being out, alone, until late at night, no matter how much she worried about them. Tía María came over in the late morning and we continued talking about her travels and her days with her husband before he died. Alicia came over shortly before noon and helped Mama Rosa pack her suitcases, causing her to "ponerse nerviosa" (to make her nervous) and it was true! I´m accompanying Mama Rosa from Madrid to Atlanta and then will put her on a nonstop flight to New Mexico where my ladyfriend, her daughter, lives. She´ll be visiting for two months and this is the first time she´s been out of Spain so this 13-hour trip (including layover time) could be very difficult for her. We´re hoping for the best and I´ll be with her most of the time. Plus, as luck would have it, an aquaintance will be on the same flight from Madrid so they´ll be able to talk and keep each other company during the Atlanta-New Mexico portion. This eases my mind. So we finished with her suitcase and now Mama Rosa can rest and relax...as much as possible. She´s still very nervous. After the packing scene, Tía María went home (to her flat in the adjacent building), I sat down to watch some TV, and Mama Rosa played her computer games. After about an hour of this, we both decided to take our naps and I was happy to do it. 2.5 hours later, I woke up, dressed, and Mama Rosa, her neighbor Júlia from downstairs, Tía María, and I walked across Barrio Lucero to meet the third sister and take her for the "merienda" (afternoon snack) at Cafetería Paco. After saying my brief hellos and then goodbyes I walked on, up Calle Cebreros to meet the friend and family of my ladyfriend and now my friends as well. They´re a very very nice, middle-class family living in a simple flat, the father/friend is retired and enjoys walking his dog through the neighborhood while the wife works as a schoolteacher and the teenage daughter is at school. We talked for about at hour at their house, mainly about the differences between Spain and the US and they asked me if I could be happy living in a place like Barrio Lucero. "Of Course!" I said. "As long as I can get a reliable connection to the internet." (I´m just joking about this last part) They decided to take their evening family walk to my "home" and we talked along the way, mainly about my life in the states, life in Spain, and other smalltalk. I invited them upstairs to say their goodbyes to Mama Rosa and upon seeing her and Tía María they were immediately invited to sit down and talk awhile. The father/friend agreed to the invitation and said, "Sure! We´ll stay for about 5-minutes." hehehee... Wellllll.... I was happy to talk with them all about Mama Rosa´s trip, mainly, for the next...oh... 40 minutes or so. They´re such nice people. Upon their leaving, made myself a fruit shake with fresh lemons and apples all blended together along with a small sandwich of assorted embutidos and cheese. Mmm.. So now I´m off to bed and have GREAT plans for tomorrow. We´ll see how much I can accomplish. Wish me luck!!
[10/16] What a beautifully cool, sunny, productive, and FUN day!! Woke up earlier than ever before on this trip at about 7:30am, showered, dressed, and prepared for possibly my last potentially productive day of the trip (I leave on Wednesday, October 18th). It was downright cold this morning so my jeans and shortsleeve shirt were a little light in the beginning, but it warmed up comfortably by noon. Took the #36 bus to Glorieta de las Piramides and started the videotaping at the Puente de Toledo (Bridge of Toledo), up the Calle de Toledo, and sidetracked to a small plaza park where are sizeable group of very small children played. They were all wearing the same cute, little uniforms so I assumed they were part of a preschool in the area. After reaching the top of the hill of Calle de Toledo to Puerta de Toledo (Gate of Toledo), I decided it was already time for a break. Stopped into the Restaurante Puerta de Toledo (which is under/next-to the Hotel Puerta de Toledo) for a Coca-Cola. Upon getting refreshed, I took the #5 metro line to OPERA and reached the top of the stairs to a clear, sunny sky and a particularly loud ONCE seller shouting his lottery ticket pitch. I walked through the newly-refurbished-yet-still-old Mercado de San Miguel open-market and on to the Plaza de la Villa (Madrid´s City Hall) as well as through some of the narrower streets south of the Plaza Mayor. Turned around and RE-entered the Plaza Mayor and visted the Casa de la Panadería museum (entrance inside on the northern wall in the Panadería - under the frescos) which was featuring Towers & Skyscrapers of Madrid. Inside, they showed many many photos and history of Madrid´s old towers and tall buildings as well as the modern skyscrapers. Needing (ANOTHER!) break, I visited a different Museo del Jamon just outside the Plaza Mayor to the northeast and had a caña which came with a complimentary tapa of cubed ham - and it was SOOOOO good (BOTH the caña AND the ham!). Left Museo del Jamon and and spotted the leather shop MAYORPIEL (Calle Mayor, 4 - next to the old pastelería (pastry shop) on the western corner of Puerta del Sol) and went upstairs to the mens department. After browsing for about 30 seconds, I found that which I sought; a black leather belt. Finally! Now I have the black leather shoes AND the black leather belt purchases completed. Arrived at Hostal Chelo on Calle Hortaleza at around 2pm to meet Antonio and say my goodbyes to his parents after a short tour of the famed hostal. Antonio and I then went on foot to a place he knew just south of the Plaza Mayor which was known for its good and cheap bocadillos de calamares (fried squid sandwiches) and they were GOOOOOD!!! We talked at a small table in the back for a little while and then Antonio had to go to class at the university. We walked together to the Puerta del Sol where he was to catch the metro and this is where I said hasta luego (until later) to my new, good friend Antonio. He´s such a good, calm, kind guy and knows more about Madrid and Spain tourism than ANYONE I know! Got on the #31 bus to "home" and found it empty - I believe Mama Rosa was visiting her daughter. Made some calls, including one to CHAIRMAN Stephen Drake-Jones of Welltours with whom I made arrangements to join his highly recommended historical Madrid walking tours at night. With plans set, I took a cherished 1.5 hour siesta.....one of my last of this trip - something I´ll miss until I return next year. So I got up, dressed, and bussed back to Plaza Mayor and walked to Puerta del Sol at 7:30pm where I met my friend (and my ladyfriend´s good friend here in Madrid) Nieves at the same bar (Bar Uxmal??) where we met last week. We talked for about 30 minutes until it was time for the tour and she decided to go along. I was happy because this would create an interesting mix of people on the Stephen Drake-Jones Welltours and also because this would give me more time to visit with Nieves until probably next year. We waited for CHAIRMAN Stephen Drake-Jones in the center of Puerta del Sol at 8pm and he was exactly ontime as the clock tower bells rang 8pm. Soon after, 3 others arrived and we had our nice, little group of 6 to take the famed Stephen Drake-Jones historical Madrid tour, something I´d been wanting to do for about 2 years. CHAIRMAN Drake-Jones certainly did NOT disappoint. This British expatriate is overflowing with wit, wisdom, charm, character, humor, and historical facts & dates about Madrid. He took us to the Church of San Isidro, which we entered, and saw the coffins of Madrid´s patron saint San Isidro and wife Santa María de la Cabeza. We strolled through narrow streets, streets *I´D* never seen, through the Cava Baja and Cava Alta and visited a number of little, typically UNtouristic bars for tapas, drinks, and more attention-grabbing descriptions of historical Madrid and the people whom have made it what it is today. I truly enjoyed spending those hours with the one-in-a-million Stephen Drake-Jones´ and can honestly confirm all those emails of glowing feedback about the Wellington Society´s tours. Keep up the GREAT work Stephen!! I can appreciate your love and passion for Madrid! We all said our goodbyes at around midnight and Nieves and I walked through the empty Plaza Mayor on our way towards Plaza de Cibeles to catch our respective Buho (owl) night busses home. BUT!....not before having a final coffee at a small, out-of-the-way bar along the way. Mmm... that café con leche was SO good and SO hot and I knew it would be one of my last.....in Madrid for awhile. Got to Cibeles and waited only a few minutes when our busses came at 12:30am. Said our sad goodbyes and I arrived at my bustop about 20 minutes later. Crossed the Paseo de Extremadura and began walking through the surprisingly deserted streets of my adopted barrio. I walked in peace and absolute quiet, noticing my breath under the street lights in the cold air. I walked. And walked. Looked up at the semi-full moon and stars and realized that I hadn´t seen a moving car, a moving person, or even a scattering cat since leaving the bus. It was a bit eery, but at the same time I was proud to be THE LAST, THE ONLY person on the neighborhood streets on this Monday night at 1am. Knowing it was one of the last times I´d make this pass from bustop to "home", I really concentrated on my surroundings, on the green wooden roll-down blinds, the turns of the streets, the specialy store awnings, the forgotten clothes on the clothesline, and just enjoyed being in this wonderfully middle-class, authentic and genuinely typical neighborhood in Madrid.
[10/17] I arrived home last night at 1am to find Mama Rosa playing her Mahjonng on the computer and was surprised to see her still up. Then, after we talked awhile and she went to bed, I finished writing yesterday´s journal entry and watched an old movie in English until 4am so I slept until about 10am this morning. TOO LATE! But, at least I didn´t have much to do. Had toast & butter for breakfast, showered, and took off with my camcorder bag for the Barrio Lucero metro line (grey line #6) and took it to the Moncloa metro stop. This is one BUSY stop because it not only has metro, but also busses stopping there. Exited through the masses, got outside and went to El Faro de Moncloa (a.k.a. Mirador del Faro de Madrid). This is the 92 meter tower on the western edge of the city which has a great 360º indoor observation deck. For 200pts (about $1.15 US), I went up to the top and got a wonderful skyview of my favorite city, seeing most of the larger landmarks including Torres Kio (a.k.a. Puerta de Europa), Telefonica building, Torre de Madrid, Torre de España (a.k.a. El Piruli), Palacio Real and the Almudena, as well as El Ejercito del Aire (the Air Force building) and El Arco de Vitoria (The Victory Arch) just below me. Jumped back onto the metro, this time the yellow line #3 as far as Puerta del Sol and changed to the light blue line #1 as far as Atocha. Went upstairs and what did I see first?? EL BRILLANTE!! I just had to have ONE MORE calamare sandwich before leaving. So I sat myself down at one of the terraza tables and oh, what a beautiful day it was!! I ordered my sandwich and beer and felt oh-so-happy eating it at a leisurely pace (at 2pm). Upon paying the camarero (waiter), I got on the #36 bus for "home". Luckily I got on at the beginning of the line because by the end it was PACKED with schoolkids. Feeling very cramped and sweating in the sun, I was relieved to see a few kids/people get off at each stop --- ONLY to be replaced by a new group. I couldn´t get home fast enough because the little squids were playing water-polo in the beer in my stomach. I was SO happy to get home, make the walk to the 6-floor building, and walk through the door. Mama Rosa shouted (in Spanish), "Hello!! Welcome home. Your lunch is ready!" Hmmmm..... What was I to do? Pass up that delicious looking plate of croquetas and the small omelette? No Way! I forced it all down, but WOW! I was SO stuffed afterwards and oh-so-ready for the nap I took -- THREE HOURS!! Alicia, the daughter of Mama Rosa, woke me up at about 6:30pm to tell me she was taking Mama Rosa to her house and to come by when I wanted. So after they left, I started to roll out of bed and began packing my bag for tomorrow´s very sad departure. JUST as I was about to walk out the door at 8:15pm, Florencio, the son of famed Hostal Lopez called from Amsterdam to say his goodbyes and wish me a good trip. How nice he is. Upon hangin up, I started to open the door and the phone rang again. I thought it was Florencio having forgotten to tell me something. But no. It was his mother calling from said Hostal Lopez! What a surprising coincidence! She literally begged me to come by the hostal one more time and I agreed. So I took the Grey Line metro to Legazpi, then took the yellow line to Sol, changed and took the light blue line to Antonio Martín to Calle de Atocha where I walked only a few blocks to Hostal Lopez. We talked for only a few minutes since it was getting late and Alicia was waiting for me at their house for the dinner. I arrived at their house, and realized....duh! I didn´t have their piso number. At the buzzer panel at the front security door I tried four of them, but no one knew them. Frustrated, I waited around for awhile hoping to see Alicia´s husband, Pedro Pablo, coming home for work (it was now 10:30pm). No luck. VERY frustrated, I waited for the bus which took me home and I called them, explaining my situation and Pedro Pablo came in the car to pick me up and took me back to his home where Alicia and Mama Rosa were waiting. We had a light dinner and at the end of it all, at around 1am, Pedro Pablo and I had a brandy and shared a cuban cigar. It was a nice, yet frustrating evening, but it all turned out well. Pedro Pablo drove Mama Rosa and I home where I finished up my packing and am now about to go to bed......at 2:30am - due to get up in 4 hours as our AeroCITY transport car is picking us up at 9:15am for our noon flight. It should be a true adventure for 76 year old Mama Rosa, never having been outside of Spain and going to that big country across the ocean from which she´s seen so many movies and heard so many stories. And just think! She´s going to the area of the USA (New Mexico) where so many of those old westerns were filmed! During her 2-months there, she and my ladyfriend will visit me in Ohio for a long weekend in early November and Mama Rosa can see how middle America compares to the great southwest. THAT TOO should be a true experience. We´ll take her to Amish country, we´ll see some covered bridges in rural Ohio, and we´ll visit my parents in their country home in my small hometown of 10 thousand people so they can meet each other probably for the first and last time in their lives. It should be an interesting meeting with the age gap (my parents are 60) as well as the language gap. My ladyfriend and I will be at the ready for translating purposes. ........ SO THAT´S MY MadridMan´s Madrid 2000 trip! Hope you all enjoyed reading it as much as I did experiencing it. My final journal entry will be the day after I arrive home; on Thursday, October 19th for a few "Mama Rosa on the flight to the USA" stories and a few other little last words. Thanks for coming to Madrid with my by way of my journal! Thanks for reading! 8-)
[10/18] (Written on 10/22) Whew!!! FINALLY HOME!! And I don't mean that in a good way, but wow. What a return trip. I woke up at 6:30am to write all those last-second postcards that had been waiting the entire two weeks (nothing like good-old-fashioned procrastination, eh?). Got writer's cramp by 7am, but finished them all and jumped in the shower, Mama Rosa still sleeping. Finished and tapped on Mama Rosa's door and the poor woman was sound asleep. I was dreading this return trip more for her, not knowing how she would standup to the stress of airport/plane changes, long hours seated, and passing through customs in the USA. Got dressed while Mama Rosa got herself together and then stood out on the terraza for a solid 5-minutes, enjoying the deep blue Velazquez sky and glowing sun bouncing off the orange terracotta rooftops across the neighborhood. Hmmmmm.... I'm going to miss this neighborhood in all its simplicity; distant afternoon music, loud voices of people talking from balcony to street, the sight of old women shuffling along the narrow sidewalks during thier late morning trips to the markets, and the sound of all those people greeting each other as they pass in the street. Mmmmm.... This certainly is different to what I'm accustomed .... and in a beautiful, peaceful way too. At 8:30am Tía María and Alicia, Pedro Pablo, and their little son Pablo came over to see us off and to help carry our luggage down the 5 flights of the narrow staircase. At 9:15am sharp came the buzz from the downstairs portal. RIGHT ON TIME! It was our Móbile chauffeur (Móbile is the car-rental and chauffer-driven luxury car service and is a division of the same company which has the affordable AeroCITY airport shuttle service). We bumped and bounced our way down the stairs with the bulky luggage to the street and awaiting Mercedes Benz and driver, José María. While we all said our tearful goodbyes, José María loaded our luggage into the spacious luxury car (OUR first time in a Mercedes Benz!!!). Alicia gave me a big hug and whispered into my ear in Spanish, "Take good care of her, okay?" and I replied with "You don't have to worry. I will." It was an emotional moment for all, but Mama Rosa was strong and with dry eyes until we began driving through the neighborhood when she started to cry. I held her hand and told her she'd be talking to them on the phone by the next day and tried to take her mind off of leaving her family behind, especially her grandson which was the reason for most of her tears. 2-months is a long time to be away from home, away from family, and away from the life you've lived for the past many years. After the initial emotions subsided, I asked Mama Rosa about the things we were seeing in the neighborhood and along the Paseo de Extremadura and she recounted, tearless and while smiling the shops she frequented and the time she went here and there to get this and that. We talked about the ongoing renovations to the Almudena church and our Palacio Real tour as we passed below them through the traffic. She was fine now, but I continued holding her hand. I asked José María, our chauffeur, if he spoke English and he said he not only spoke English (a required language for all Móbile drivers), but he also spoke German and French and a little Italian (I think). WOW! Mama Rosa and I were both impressed! And he was so nice, VERY professional, and I noticed throughout the trip to the airport that he never spoke unless we spoke to him first. Mama Rosa and I talked, my trying to take her mind off the trip and what she was leaving behind as we drove around one of Madrid's outerbelts to Madrid-Barajas airport. We arrived at at the drop-off point and José María kindly went to get a cart for our luggage, loaded all the bags, and it was at this moment that Mama Rosa said, "Where's my purse? I assumed it was with the other bags." Well guess what. It wasn't with us. We MUST have left it at home. OH NO!! In her purse was her plane ticket and passport not to mention some medications and some special, tightly wrapped and thus odorless goodies from my ladyfriend's friend Nieves buried at the bottom. Always calm, but concerned, José María pushed our luggage to the Delta line and offered to call someone on his cell phone. We called Alicia's house, but no one was home. José María offered to take one of us back to the house to get the purse, but I couldn't leave Mama Rosa here alone for probably more than an hour! What were we to do??!! I was just deciding to load everything back in the car and go back to Mama Rosa's house when, like a saviour stepping through the dark clouds, Alicia walked up to us holding Mama Rosa's purse. WHEW!!!! What a relief!!! We thanked José María for his assistance and for taking us to the airport and he expressed his happiness that all was fine and left. Pedro Pablo was parking the car, but came soon after and so there we were again, all together. In many ways, and not only for the purse, Mama Rosa's nerves began to calm. Alicia and Pedro Pablo had dropped little Pablo at the daycare on the way to the airport and there we were waiting in the Delta line, 2-hours before our flight left at noon. We were almost to the front when we saw María Teresa, a slender women of 60+ who grew up in Santander, same as Mama Rosa, and now lives in Madrid near the Prado museum. She had arranged her flight in accordance with ours since her daughter was ALSO a teacher in New Mexico (Santa Fe), participating in the same teacher exchange program as my ladyfriend (they know each other well), AND since she had NEVER been outside of Spain before - JUST like Mama Rosa. In many ways, I was VERY happy she was going along so Mama Rosa would have another person with whom to talk in fluent Spanish AND, more importantly, to keep her company during the direct Atlanta-to-Albuquerque, New Mexico flight since I wouldn't be going. The three of us say our goodbyes to our families (again) and pass through security on our way to the gate. We sit and wait, getting acquainted with María Teresa as this is the first time all have met. 11:30am comes and we begin boarding the plane and get seated. Mama Rosa and I are seated together on the left side in the 2-seat side of the plane and María Teresa is just one row behind and on the aisle so we can all talk easily. Mama Rosa and I talk and she's amazingly calm with all the activity with the other passengers. She enjoyed looking out her window at all the big planes coming and going. We sit....and sit....and sit some more. The captain comes over the speaker and tells us there's a mechanical problems and that they'll have a mechanic check it out immediately. Two hours pass and we're still at the gate, but then we finally push back, start to roll towards the runway and we stop again. The captain says there's another indicator light warning and we go back to the gate...wait a few moments and the captain once again comes over the speaker, telling us he's de-planing everyone while they fix the problem, but that it won't be any sooner than 5-hours. ARGH!!! So, like cattle, we all de-plane and follow the leader through Barajas airport to the new terminal where we all go UP the ramp to the cafeteria where Delta will treat us to lunch. Fine, I thought. At least we'll be comfortable while we wait. Imagine having 250+ hungry-and-angry passengers in a smallish airport cafeteria! Wellllll.... .little did I know this was ONLY the beginning of our flight/travel problems. We got our meals (I had steak and pasta while Mama Rosa had the chicken and pasta), finally found a table, and sat down to our complimentary meal. Fine, I thought (again). Then,.... we started eating and found all the food to be cold; steak, chicken, pasta, everything. We ate what we could and went to the waiting area where we..... waited and waited and waited. We talked and took little walks while waiting those 3-4 hours in the waiting area, but they finally fixed the plane's mechanical problem and we reluctantly re-boarded our rehabilitated (??!!)plane. We sat down in our original seats and the captain said that because of some aviation law our international flight COULD NOT fly into Atlanta after a certain hour so we would have to first go to New York's JFK airport, change pilots and crew, and then fly on to Atlanta which is exactly what we did. We talked about her children mostly, about the state where her daughter, my ladyfriend, is living these two years, and she would listen to the classical music through the headphones. She also found it odd that they were alway serving something to us nonstop: drinks, snacks, sandwiches, a meal, more drinks, another sandwich, etcetera. She thought it was too much food for all these people whom were not burning any energy, but just sitting for hours on end. I'd have to agree. She didn't eat much on the plane, found the American cheese to taste "funny", the sourdough bread to be "sour" and the creamy Italian salad dressing to be too spicy. It was interesting for me to see her initial reactions to "our" typical "American" foods. Travelling west, the sun was up almost to the end of the flight, but I was happy we flew over New York City after sundown so the city was just awash with lights and Mama Rosa had her face nearly pressed against the window to see as much as she could with her 76 year old eyes. She couldn't believe how BIG it all seemed, the lights went on forever, and we caught a glimpse of the immense downtown Manhattan. María Teresa enjoyed her flight too, talking mostly with the young man from Sevilla sitting across the aisle from her. So we landed in New York, waited for an hour for them to change crew and pilots, and went on to Atlanta where we arrived at about 11:30pm. Being a rather a slow threesome (Mama Rosa doesn't walk very fast), we reached customs/immigration last. I went to my line for US Citizens and the two ladies went to NON-US CITIZENS line. On the flight I filled out all the microscopic fields on the immigration forms and Mama Rosa only had to sign at the bottom. I passed through customs quickly, but Mama Rosa was sent back to some other counter to fill out another form, the agent claiming it was the wrong form. I was so upset. I could only guess the agent saw the difference in handwriting and had her fill out a new one. The small printed questions were certainly impossible for Mama Rosa to read so when she brought back the SAME form to a new agent and started asking her questions she couldn't answer because the agent was asking her in English. I thought to myself, "how do they do this everyday with people from around the world? These agents can't speak every language!" I kindly shouted at the agent that Mama Rosa didn't speak any English and offered to help. The agent asked if I was a family member, I said "no", but had been dating her daughter for 7-years. For some reason, the agent didn't find this at all ammusing, but allowed me to cross back over the sacred BLUE LINE to help. Well, needless to say, all the information on Mama Rosa's immigration form was wrong and I helped the agent to correct it as I had done on the original CORRECT form on the plane. So finally, we passed through customs, were the LAST ones, and they shut down the area as we walked away towards the Delta counter. Being last again, the Albuquerque, New Mexico flight that was to leave at midnight was full, mainly with all those passengers who got off our plane and through customs first. SO! Here we are at the Delta counter and they give us the bad news (MORE?!!). Delta gave the three of us 2-rooms at the Sheraton Gateway Inn near the Atlanta airport and meal vouchers and made our reservations for the following day flights. And get this! The first direct flight from Atlanta to Albuquerque, New Mexico wasn't until 7:40pm!!! Knowing that the ladies couldn't possibly find their way through another airport to find a connecting flight I decided this later flight would be best. I also made my own reservations to Columbus at 9:30pm, after their flight left. We saw our luggage, but couldn't take it with us to the hotel so we only had our carry on luggage and the clothes on our backs. We left the Delta counter, shutting down behind us, and as we took the underground metro to the far end of the Atlanta Airport we could see it was almost totally empty, shutting down for the night. Took the shuttle to the Sheraton and arrived there at around 1am. Exhausted, not having slept more than a few minutes on the flights, and our bodies thinking it was 7am Spain time, we got our complimentary rooms and agreed to go back downstairs for a tea before bed. Well, even as late as it was and as tired as we were, Spaniards will be Spaniards with their converstaions, we made phonecalls to Albuquerque to alert the daughters of the next-day arrival. It was a bigger shame because both daughters had arranged to take the next day off to spend with their mothers on their first full-day in the USA. A lost/wasted day for them. SO, needless to say, we all got to bed at around 3am. The two ladies shared one BIG, 2-queen sized bed bedroom and I took the nextdoor bedroom on the 7th floor of this very big, expensive 12-floor hotel.
[10/19] (Written on 10/22 - NOTE: the ABOVE entry is about the BEGINNING of our return flight story) I woke up at 8am to call the office and tell them that I wouldn't be at work today because of some unforseen travel problems and then went right back to bed until 11:30am. Got up, showered, dressed, and got a knock on my door at noon from María Teresa. We got ourselves together and went downstairs to the hotel restaurant for our breakfast/lunch. AFTER ordering, I counted up the meal vouchers Delta gave us for a total value of $48. Hmmm.. $48 for three people for three meals at an expensive hotel restaurant??? Well guess what. The total lunch came to about $60, blowing past all our meal vouchers value in one shot and still had to eat dinner. Swallowing and not wanting to mention this to the ladies, I paid the extra and we went upstairs to gather our things, then downstairs to check out at 2pm, the latest checkout possible. Instead of going straight to the airport and waiting in the chaos, I decided it would be better just to sit in the hotel's sofa-and-cushy-chair sunroom lounging area next to the lobby. We talked, watched the fountain, strolled around the lobby, and at 5:30pm we went back to the restaurant for a "LIGHT" $45 lunch. Went outside, got the airport shuttle back to the airport, and went back to the Delta (LONG!) line and waited our turn. Got to the counter and I explained to the Delta person that these ladies were travelling to Albuquerque, New Mexico, got their seats, and translated the required security questions for them. We arrived at the gate about 45 minutes before the flight and I spoke with the gate attendant about the ladies needing some assistance finding their seats. He kindly, if not gruffly, filled out a special card and sent them towards the entrance. This all happened so quickly so we gave our kisses and said our goodbyes. I called later, after arriving home at about midnight, 10pm in Albuquerque, and found the ladies arrived without too many problems along the way. Poor Mama Rosa got sick on the flight and I felt responsible for not being with her, that I could have soothed her. Poor thing. It must be so stressful being in a foreign place for the first time without anyone to comfort you, to take care of things, to help you with the details. I had a dream this night where I arrive in Columbus, Ohio, leave the plane and up the ramp into the airport and there at the door stands Mama Rosa and María Teresa - somehow they sent them to Columbus instead of to Albuquerque!! Thank goodness it was only a dream. heehehe.. So now, things are fine. Mama Rosa is with her daughter in New Mexico for 2 months and they're enjoying their time together. Reunited. I'm back here in Columbus, Ohio and putting all the post-trip details together, updating the website, and still staring at a cornerful of not-yet-unpacked luggage. What a great trip it was, despite being a little sick for a few days. It was odd not having my ladyfriend in Madrid while there, but this gave me a wonderful opportunity to get to know Mama Rosa more personally and to get a deeper appreciation for real Spaniards. I can't wait for my 5th trip to Madrid and Spain. Now I sense it's waiting for me. Thanks for allowing me to open the windows in your mind. UNTIL NEXT YEAR!!!!
---
© Copyright 2000 - 2008 Martin Media, S.L.