---
---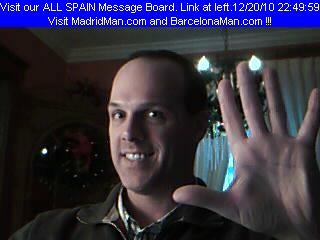 MadridMan is now

MadridMan'sMadrid 2002:
---
Updated while in Madrid March 23 - April 8, 2002
[3/21] It's time to go back to Madrid!! It's calling me! I can hear it! My heart thumps everytime I think about walking again through old Huertas, Plaza Oriente, and seeing the view of the Palacio Real and the Almudena from the bridge which crosses the Río Manzanares on Calle de Segovia. Mmmm... MY Madrid. I'm returning once again.
I leave this country (USA) and my city (Columbus, Ohio) tomorrow/Friday morning and will pass through FIVE (go ahead, count them!) AIRPORTS on my way to Madrid. I go from Columbus to Cincinnati to Boston to Paris and finally to Madrid. Whew! My goodness. It makes me tired just thinking about it. But hey, I'll always have Madrid and my mind and the time will pass quickly I'm sure. Oh well. That's how the frequent flier award game is played sometimes. You just take what they give you. And a free trip to Madrid is worth.. well... it's worth A LOT to me!
I spent a fast/short 10 days in Madrid and the Valladolid region over Christmas/New Years and it was a truly wonderful experience. This time around, I'll have more than 2 weeks in Spain and have MUCH MadridMan.com - related things to do while there. For Semana Santa (Holy Week), my ladyfriend and I are going to the province of Galicia in Spain's northwest region. We'll mainly be staying in Santiago de Compostela but will drive to other places as daytrips as well. I can't wait. It should be a wonderful time once again.
NOTE: This journal will be updated at the end of each day while in Madrid and sporatically (if at all) when in Galicia. I'll fill in the blanks upon returning to Madrid though so you can be sure to get every detail. Also, you'll be sure to find a few personal postings in MadridMan's ALL SPAIN Message Board. ENJOY!!
[3/23] I´m IN MADRID!!! The date is actually 3-24 because it´s 2am and we just got back from downtown. Wow. What incredibly pleasant weather they have here right now.
After passing through 5 airports in those 24 hours of flying with little sleep, I made it to Madrid at noon today.... but WITHOUT my luggage!! No, it wasn´t lost, but arrived a few hours BEFORE me. They took it to some other storage place and just delivered it here at ¨home¨ (the house of my ladyfriend) at 10pm. NO matter. I didn´t need it anyway... thank god! At least it wasn´t lost. The flight from Boston to Paris on AirFrance was fine.., but I didn´t sleep more than a few minutes at a time -- YOU know how it is. The short 2-hour flight from Paris to Madrid was very nice too. I had a window seat and a great view of the border between France and Spain and flying of ther Pirenees was beautiful too.
Instead of coming straight home from Barajas airport, my ladyfriend parked in her neighborhood (Barrio Lucero) and we went to a bar and sat at the terraza/patio outside to have my FIRST Spanish beer in months and patatas bravas. I was in heaven! And since he lives very near this bar, I called my good friend Rafael (replay on MadridMan´s ALL SPAIN Message Board) and so he joined us for a beer.
We went back, visited with my ladyfriend´s 78 year old mother for an hour over a wonderful lunch of cocido de patatas, croquetas, and Rioja wine, and then we all headed for our prospective beds for a much needed, at least on my part, siesta... which, for me, lasted about 3.5 hours! Upon awaking and preparing myself, my ladyfriend and I went first to visit the family of Hostal Lopez and they were so kind in treating us to some beautifully handmade pastries while we chatted. It was SO nice to see them again - I expect to stay longer next time. Next, we stopped at my favorite Las Bravas bar for tortilla bravas which is a potato omellete covered in a spicy red sauce and a couple Mahou beers to wash it down. Wow.. I was in heaven before, but have somehow transcended my previous state. On our way to the Plaza Mayor, we stopped at one of the Museo del Jamon bars for a bocadillo de salchichon and another beer. Next, we met with Andrés of Walks of Madrid at "El Caballo" in the Plaza Mayor and he took us to Bar Antonio in the Puerta Cerrada next to the Plaza Mayor where we had a sangria while standing outside on the terraza and talking. Andres organizes and gives tapas bars tours, which I understand is branching off into a kind of gourmet food and wine tour. After saying our goodbyes, we went back to the Plaza Mayor... now, it´s about 11:30pm and we sat at a terraza to have a coffee and take some photos. I took a photo (I can´t get my ladyfriend´s CD-ROM to work) of my ladyfriend and me just after midnight, which began my ladyfriend´s birthday (I don´t dare tell her age here... or ANYWHERE for that matter). We took the metro back home and now, at almost 2:30am, are getting ready for bed. We were both surprised to see Mama Rosa still up and playing computer games as we arrived!! It was a wonderful, successful, good-weather first day here in Madrid and I look forward to a day of family gatherings (my ladyfriend´s family) tomorrow. Goodnight! (it´s 3:45am!!)
[3/24] ANOTHER late night in the making. It´s actually 3/25 at 2:30am as I write this. Didn´t get much sleep last night either and tonight will likely be the same as we´re waking early to drive to Santiago de Compostela to spend 3-4 nights. In some ways it will be nice to get away from Madrid for awhile, but will be anxious to get back by the end.
Got up a little late this morning, maybe 10am, had pan tostada con aceite y ajo (toast with olive oil and garlic) for breakfast along with a much needed coffee. Got my self together after a shower and sadly declined an invitation to go with Mama Rosa for the mass at the local catholic church for dia de Ramos (Palm Sunday). I REALLY should have done it for the experience along, but was just too tired. I´m not catholic but think the ceremony would have been interesting. Instead, my ladyfriend and I took a walk through the neighborhood, Barrio Lucero, in order to find some pastries to take to her birthday party later at her sister´s house. We got what we were looking for, returned, and waited for Mama Rosa to return from mass and at that time we gathered together, Mama Rosa, my ladyfriend, and Tia Maria (Mama Rosa´s sister who lives in the adjoining building -- they can talk to each other out their windows instead of talking on the phone!). Because it was my ladyfriend´s birthday, it´s the Spanish custom to invite family and friends to dinner, a drink somewhere, or just to gather at your house. And, if you´re the person having the birthday, YOU PAY. It´s the opposite in the United States, of course. We went to a little bar in the neighborhood where we met the older sister of Mama Rosa and some cousins for a beers, juice, and we had a few free tapas of peanuts and the other hard nuts, call Corn Nuts in the USA. We also had patatas bravas. Mmmmm... Yum!
After the terraza, we went to a Chinese Restaurant in the neighborhood for my ladyfriends lunch. For me, it was odd hearing a Chinese woman speaking in perfect Spanish. We had lemon chichen, rice, and fried vegetable and then flan with cream and roasted walnuts for dessert. Wow. It was all soooo good. I had never eaten Chinese food in Spain before and I really liked it! At 4:30 I excused myself, leaving the women to take a long walk through the Casa de Campo on their own while I grabbed but number 31 to the Plaza Mayor and then met Julio at his Hostal Fonda Horizonte to tour his hostel on Calle de Atocha, just across the street from Hostal Martin. Julio and I spent a couple hours talking about the philosphy, the intention, the true personality of websites and how they´ve changed over the years. I found Julio to be a very very nice, sensitive, and honest man with his eye on the open world. He´s very well traveled and an EXCELLENT published photographer.
I´d lost time talking with Julio and rushed out at 7pm, returning to the place near the Plaza Mayor and grabbed a taxi to my ladyfriend´s sister´s house next to the Mahou Beer factory, more or less near the Puerta de Toledo. The taxi ride took about 15-20 minutes and cost about $3 US dollars. WOW. How cheap. I didn´t have anything less than a 5 Euro bill (about $4.50 US) so I was glad to give it all to the woman driver and she was surprised and happy to get it. In general, taxis in Spain are SO cheap. Anyway, at this location was where many of my ladyfriend´s family and friends were gathered to celebrate her birthday. We spent much of the night on their top/6th floor terraza/patio with a beautiful, open-air view of the illuminated Puerta de Toledo, the dome top of the San Francisco cathedral, and the Almudena Cathedral next to the Royal Palace. We talked about every topic, ate some wonderfully typical "party" foods like hams, cheeses, and finished with a beautifully sculptured birthday cake topped with a candle (just one). We all left the house at 11pm. Remember, this is a Sunday night and MOST people would be getting ready to go to bed. But NO! Not in Spain! (well okay, MOST people ARE getting ready for bed, but we were not). Instead, we drove to and parked near the Puerta del Sol to meet some visiting friends from when she lived/worked as a teacher in Albuquerque, New Mexico these previous 2 years. We met them at 11:30pm at the typical meeting place on Puerta del Sol; beneath "the horse" (sculpture). From there, we talked while we walked to Café Oriente, well known for their terraza facing Plaza Oriente and the totally pedestrian area in front of the Royal Palace. The had JUST closed the terraza/patio so we went inside to this beautiful, old café where we sat, talked about Spain and places they could visit, and drank our coffees. The time passed and more than a few yawns were visible by 1:30am so we said our goodbyes and returned home, only finding impossible to find a parking space near home.. you know, Sunday night, everyone has already parked, so we drove all over the neighborhood and settled on a small space which too about 10 minutes to wiggle into, doing the old FRONT BUMP, BACK BUMP to get ourselves in. So that´s that! I´m exhausted, probably will only get 3-4 hours of sleep (I MISSED MY SIESTA TODAY!!!) and expect to drink LOTS of coffee in the morning when we awake at 7am to drive to Santiago de Compostela - they say it´s a 7-8 hour drive. Ugh. Oh well.. we´ll make a day out of it, stopping at small villages along the way and make it all a whole day adventure. I´m really looking forward to it.
I HOPE to find a cybercafe while in Santiago to write about the things we did/saw, but we´ll see. I can´t promis more daily journal entries these next 3 dayss, but we´ll see. ¡Tocar Madera! (knock on wood). So now it´s 3:00am and I´m NOW going to upload this entry and check email. Wow.. Still SO much to do. See you soon!
[3/25] Quick entry this morning, now at 9am because we leave for Galicia in just a few minutes. Got up at 7am, showered, and walked down the hill to the tiny, corner bar, Bar Paco, to buy porras and take them back "home" for breakfast. I love this little place. You walk in, the 3 or 4 people at the bar, including the old man, Paco, behind the bar, hardly looks at you and they all say, practically in unison, "Hola. Buenos dias." I walked up to the bar and quickly greeted by the serious-looking old man, tall and thin with just a little hair on his head, all grey. I tell him I´d like 8 porras, in Spanish of course, and he asks, "¿Para llevar?" ("To go?"). So he walks over to the large stack of porras above the counter, grabs a bunch of them by hand, wraps them in a sheet of brownish paper, sticks a toothpick through the end to keep the paper wrapped, and leaves the rolled porras, the olive oil already spot-soaking the wrapping, and looks at his cheat-sheet of prices on the wall... IN EUROS... adds EIGHT TIMES 0.15 EUROS (= 15 centavos or about 13 cents US EACH!!) and gives me the price, 120 Euros. I examine my NEW Euro coins very carefully, and hand him 2.20 Euros and he hands me back 1 Euros. You can clearly see that still, after almost 4 months of taking/giving money in Euros, it´s still very difficult for this bar owner, and most everyone else, to think in Euros and not pesetas. So I return "home" with my 8 porras and the three of us, me, my ladyfriend, and Mama Rosa, sit around the dining table and have our coffee with porras while watching the morning news on TV, the house is totally open-air with all windows open, you hear a little traffic in the street, children shouting, and it´s a clear, cool, beautifully sunny day in Madrid. Now, we´re heading north to Galicia. Hope to write again soon! I´m taking LOTS of photos so prepare yourselves for my return. ¡Hasta luego!
[3/25 cont.] (written after returning to Madrid): What beautiful weather! After the porras in the morning, packing our bag for the trip, and showering, we walked a long distance to the car parked far in the neighborhood because we returned so late the previous night and had to REALLY search for a parking spot.. Got in the car, drove away, we were ALMOST outside of Madrid when ... DOH! ... we realized we didn´t have the road map! Oh no!!!! So we returned, got the book of road maps of Spain, and returned to the road totally prepared... but at about 10:30am! LATE! We traveled northwest along N-VI (Nacional 6), passing by the Valle de los Caidos (Valley of the Fallen) to the left with the huge cross on the mountainside, through the tunnel under the Guadarrama Mountains, passing Avila, Salamanca, Valladolid, and Tordesillas (where my ladyfriend and I spent 3 days in the parador there last Christmastime), and made our first stop in Astorga. Astorga is a nice, little town with Roman walls and have a very nice cathedral AND a fairytale-looking church designed by Antonio Gaudí. We really only stoppped for this and were on our way in 20-30 minutes.
Continuing on under the clear skies, our next stop was the beautiful walled city of LUGO. Lugo, its walls looking VERY similar in design to those of Avila but shorter, was impressive. We weren´t able to park IN Lugo because it is mainly pededestrian.. it seemed there was only one traffic entrance. (regarding parking: most parking areas have a central "box" into which you put coins and then take the ticket and put it in your window -- maximum parking time where we were was 2 hours and we were only inside the walls of Lugo for 1.5 hours) This old city, which has more urban sprawl outside than its old, maintained interior, was so pleasant to walk through its narrow, twisting streets, SO many people walking about, all the stores were open, and we took a nice, long walk ON the tops of the walls. It seemed one could walk around the entire circle of walls, but we only went halfway and returned to the main plaza where we sat in the sun and had a Coca-Cola. After the rest, we entered the nice, old cathedral dating back to the 12th century, but had newer parts added later. From LUGO, we took N-540 southwest to Guntin, then N-547 west until it connected to N-634 west to Santiago de Compostela, not stopping along the way.
We arrived in large Santiago and BOOM, we found our hotel immediately, the Hesperia Compostela****
HOTEL DETAILS:
Hesperia Compostela, Calle Horreo, 1. tel. 981 58 57 00, 99 rooms with minibar,
PRICE: $75 US double through Halycon Viajes travel agent,
web: www.hesperia-compostela.com , Underground paid parking in the adjoining plaza for 6 Euros/24hours
What a NICE hotel! It looked like an castle, a smallish reception area, each of the 4 floors had large sitting/lounge areas, and the rooms average/smallish, but nicely decorated with armoirs, large bathroom, a foyer with large wooden door to the bedroom apart from the main entrance door. The main door to our room required a plastic keycard which was also put in the slot JUST inside the door in order to activate the electricity to the room. We were on the top floor with a few of the main street below. The window had internal wooden shutters and heavy curtains. The room had everything necessary and the bathroom was stocked with all things possibly needed like tooth brushes, toothpast, combs, razors, shampoo, cologne, EVERYTHING. What a nice room we had those three days and it was SO close, just a few blocks from the Cathedral and surrounding plazas. Our first night, on this day, a Monday, we arrived at about 7pm so the total drive, including stops, took about 8.5 hours. The sun was just setting when we checked in and we took a quick nap until about 10pm when we left to look for someplace to have dinner.
After a nice walk through the old quarter, we just by chance encountered the main plaza in front of the cathedral simply by turning a corner and BAM! There it was in all its glory, totally illuminated, incredibly tall and majestic, standing before us was the cathedral of Santiago de Compostela. What a beautiful site it was, the granite stone turning yellow in some places from oxidation (??) and the 4 stairways at its base. SO incredible... I was a little concerned that I was seeing the cathedral at its most beautiful, at night, but found the next day in daylight this wasn´t true. We wandered the streets more, now about 10:30pm, and found a tiny plaza with flowers all around and a fountain in the center. We settled on the corner restaurant, Restaurante San Jaime (Raíña, 4) where we were escorted upstairs and chose our table next to the window overlooking the square. What a nicee, little place it was and were were one of two couples dining there that night (a Monday). Over the next two hours, with our bottle of Rebeira white wine (9.02 Euros), to start we had Almejas Marinera (small steamed clams, 9.02 Euros), then for dinner we had Empanada Gallega (a kind of tuna pie, 2.70 Euros), Pulpo Gallega (octopus, 7.81 Euros), and Gambas Al Ajillo (YUM!! Shrimp in garlic olive oil, 7.81 Euros) along with delicious regional bread (2 baskets, 0.96 total). Then cheesecake and coffee for dessert for a total of 42.73 Euros (about $38 US dollars or 7110 pesetas) which is a GREAT value, I think. at just after midnight, we thanked our waiter, raised from the table and my ladyfriend said outloud to the room, "Hasta Luego!" to the room and the other couple dining there replied with the same. To me, this is odd, but I LOVE this custom in Spain! We walked downstairs, outside, and through the old neighborhood once again.. So beautiful is this neibhorhood between the cathedral and our hotel, with active, cut-stone streets, 2-3 story stone buildings, many many stone arches and galleries, and so alive in a place so so old to my American eyes. This was the end of our first evening and tomorrow would prove to be even MORE interesting and impressive. More later.... (now for a siesta after my potaje de garbanzos for lunch)...
[3/26] (written after returning to Madrid): We awoke MUCH too late, probably at about 9am, and had breakfast in Café/Bar Derby across the street from our hotel; a very nice looking old café, but seemed a bit expensive, possibly for its location. I had toasted bread with olive oil and a café con leche and my ladyfriend had a croissant with cortado (like espresso) and TWO glasses of fresh squeezed orange juice... which seemed rather expensive at 2.10 Euros (almost $2 US) for a total of 9.15 Euros for breakfast. Afterwards, now about 11:30am, we wandered the beautiful streets of the old neighborhood and made our way to the cathedral where we entered and looked all about. This place is SO impressive, particularly for it´s Pórtico just inside the main door up the front stairs. The Pórtico above depics Jesus, Santiago holding his walking stick, and the 4 Apostles above. It was easy for us to spend at least one hour slowly walking through all its nooks and crannies. Outside the cathedral is a shutter-bug´s paradise with the cathedral on one side of the Praza do Obradoiro (en gallego), the city hall building on another side, and on the third side the famed and most exclusive Parador Hostal dos Reis Católicos which claims to be the oldest hotel in the world and also one of the most luxurious and beautiful. I walked in just to have a look and could see why it was so expensive and well known. WOW. At about 1:30pm, we rested on their terraza with a Coca-Cola and a GREAT view of the valley below AND of the cathedral. We visited other plazas around the cathedral and walked some of the lower streets as well until lunch time, at about 2:30pm. We had heard of one main street in the old neighborhood which was lined with seafood restaurants and couldn´t find it so we settled at a cute, little place with an unassuming exterior and a gorgeous country-home-looking interior. It was called "Restaurante El Asesino" (The Assassin) on Plaza Universidad, 16. There was one dining room aside the open kitchen and a cooler, lovingly decorated second dining room with wooden chairs, wood floor, and antique wall decorations and paintings. We were one of two couples here once again, but we just loved the place. We had bread, salada, octopus, a delicously tender beef, Ribeiro wine, two coffees and shared a dessert, all for 30.10 Euros (about $27 US) and we were so full afterwards.
After lunch we walked the streets some more and were suprised when we found the street lined with seafood restaurants we had heard about... and finally found it.. AFTER lunch, of course. It was one after another after another with beautiful seafood displays of whole octopus, live crab and shrimp, fish, squid, and anything else you could think of. We wondered the name of this street, so famous and yet so elusive to us. Our curiosity turned to near shrieks of laughter when we got to the end of the street and my ladyfriend had looked up to see the street sign on the corner of a building: CALLE DO FRANCO. She couldn´t stop laughing at the fact that this wonderful, beautiful street seemed to be named after Francisco Franco, the iron-fisted dictator which single-handedly ravaged his own country (okay, this is all debatable depending on which side you were on during his reign). Franco was from Galicia, the region which we were visiting, and many from there are proud to call him their native son. As it turned out, the street was NOT named for General Francisco Franco, but for another Franco.
After this fantastic lunch and feeling sleepy, we made our way back to the hotel for a siesta, but took a detour to the Parque Alameda and strolled along the Paseo dos Leóns which faces the city and its cathedral. What a beautiful view from this tree covered paseo along which are many benches where one can stop, stip, look out over the terracota rooftops and see the cathedral towering above all. We saw many many couples in the park, taking naps, kissing in the shaded grass, and walking hand-in-hand. We were both pleasantly sleepy and did finally go back to the hotel and took a 4-hour siesta, waking up at about 9:30pm and feeling too lazy to leave again so we stayed "home", ate the chorizo sandwhiches and snack foods we had brought on the trip, watched TV, and just went back to bed by midnight, preparing ourselves for tomorrow´s long daytrip to Finesterre/Fisterra, "The End of the Earth".
[3/27] (written after returning to Madrid): Today was our first day-trip outside Santiago, to the Rias Altas (The Upper Inlets), stopping first in Noia (highway C-543 from Santiago). I had wanted to go here for the longest time because here in the neighborhood is my favorite restaurant for pulpo (octopus) called Ria de la Noia, named after the ria (inlet) which meets the town of Noia in Galicia. The town itself is a rather typical looking fishing village and the tide was OUT, making it possible to walk along the mud to the stranded rowboats which scattered the sandy bottoms near the coast. From here we drove north along the coast to Serra de Outes and then took highway C-550 through Muros, Louro, Lira, and finally stopping at a MIRADOR (high elevation scenic outlook point) high atop the town of Ezaro (we think... we encountered the mirador by chance) with a great view of the mini-bays below and hundreds of anchored little boats below. Continuing on along the coast, passing through one fishing village after another, usually not noticing the change in municipalities if it were not for the beginning/ending town signs, and stopped at 1:30pm in Corbuión for lunch at a place called Las Horteusias, along the beach outside on the covered terraza and had white Rebeira wine, croquetas de marisco, Vieras (kept the shell), tapas of rice/peas/eggs, and were really enjoying the lunch with the view of the ocean all for 19 Euros... CHEAP! After Corcubión, we continued on 13 kilometers for Finisterre, "The End of the Earth".
Arriving in the town of Finisterre (or "Fisterra" en Gallego) at 3:25pm and on to the lighthouse and hotel on the cape at 3:40pm. After a 1 hour walk around the lighthouse, lying on the rocks in the sun around the lighthouse with beautiful views of the crashing rocks below.... (and this is what is very different than in the USA and other parts -- the grounds around the lighthouse were totally without forbidden areas... no rails, no signs, no prohibited areas.. you could jump out on the most dangerous of stones and dive to your death easily if you had the inclination), we went down the hill/cape toward the town of Finesterra, stopped halfway down to walk around a nice, old, small church where we spoke to a smartly dressed older man who was a fisherman, one of the many, in the town. He talked at length about the long days and hard work as a fisherman, how they caught and sold their fish, and other interesting details of the sometimes dangerous life of a fisherman. At this time it was about 5pm and he told us the fisherman would NOW be bringing in their cathes of the day to the local fishmarket for auction so we went down to the town, found the building at the water´s edge where the fisherman were weighing their catch and arranging their fish for sale. We stayed and watche for about 40 minutes and it was all SO interesting how the (mainly) portly, aproned matrons of the town, possibly restaurant owners, were bidding on the different and UNUSUAL looking fish like HUGE manta rays, black-ink squid, and seemingly tons and tons of octopus. This was a REAL experience for us and we hated to leave, but we needed to get back to Santiago... which we did totally by chance and without direction. We didn´t take ANY main roads... we didn´t know ANYTHING about the small villages through which we would pass... we connected the two points between Finisterre and Santiago and totally by chance, passed a ancient Roman Bridge over a river, many many fortified structures, and many many HORREOS. Horreos are the stone and terracota structures on stilts, looking something like a shed on legs, which are/were used to store and dry farmer´s corn. Most are really old, 100+ years, some newer, but all very cute.
Arriving at the hotel in Santiago at about 8pm, we wanted to fought the urge to take a late siesta after a long day and instead got ourselves together to enjoy our last night in this beautiful city. We once again walked the old streets, through the plaza of the cathedral and enjoyed the nearly full moon over the towers of the golden, completely illuminated cathedral. Hearing music, we walked over to the gallery of the city hall building directly across from the cathedral and found a group of Tunas (like singing minstrals), colorfully dressed, all playing guitars and singing traditional Spanish and Galician songs in their usual comical manner. It was real entertainment for tips and we enjoyed it for at least 20 minutes, many people singing along. After the evening´s entertainment, we tried to choose a restuarant for our last dinner and settled on a restaurant I had seen earlier. It was called Casa Elisa (Calle do Franco, 36-38) and looked to be an upper scale restaurant.. which it was, but it was so pretty, looked lively with people in the bar area, but only a few couples were seated in the rear restaurant where we dined from 10:30pm until 12:30am. We chose and shared the 2-person seafood combination dinner (Mariscada de la Casa) which included crab, large shrimp, clams, and a number of other delicious delicacies from the sea.. ALL was fantastic!!! With it we had the usual Ribeiro wite wine, bread, dessert, coffees, all for 68.48 Euros (about $62 US). After a beautifully filling and FULFILLING dinner, we strolled back through the old streets of Santiago to our hotel and ended the night. Tomorrow, Thursday, we would leave Santiago for the Rias Baixas (Lower inlets) and the towns of Camados, Combarros, A Guarda, Tui, and finally over the border into Portugal to Valença.
[3/28] (written after returning to Madrid): Woke up early, showered, packed our bag and left it at the front reception desk as we checked out. We went to a café called MUELLE for breakfast down the street from the hotel and I ordered a croissant AND churros. NOT ONLY did the waitress look at me strangely, but so did my ladyfriend and asked in surprise, "LOS DOS!??" ("Both Things!?) I was hungry this morning and the 5 finger-sized churros they served were eaten quickly when the croissant arrived with our coffee. We took one last walk through the old part around the cathedral and went into a pasteleria to buy a couple TARTA DE SANTIAGO (or Tarta de Almendra) which is a pie shaped dessert made of almond, eggs, sugar, and butter. It´s SO good! We gave one to Mama Rosa and we all since enjoyed it after a 2-hour family Sunday lunch. ANYWAY, we took our goodies back to the hotel, picked up our bags, got the car from the underground parking garage, and headed for the Rías Baixas/Bajas (Lower Inlets). I think this was the my favorite part aside from Santiago de Compostela. You know, I had always heard things about Santiago, but never had any interest in it. It seemed so remote, so "countryside", so far from the "cultural" cities of Madrid, Barcelona, and Sevilla, but I can´t recommend highly enough a visit to this, "GREEN SPAIN"! I think because it´s so far from these other popular locales that it doesn´t get the non-Spaniard visitors it deserves.
So we took N-550 south from Santiago and as soon as we hit the Rio Ulla we took C-550 south a short distance to Catoira. On the outskirts of CATOIRA, but very near the road, are the romantic remains of Alfonso V´s Towers of the West which apparently were defences of Satniago against the Normans. These ruins have a very small, yet intact church and remains of two towers right on the river and nearly directly below the elevated road. Very pretty and covered with greenery, these ruins are near a stone cross on a small island in the river and is worth a quick 20 minute stop, but the well-signed access road is deeply pitted. Immediately after passing through Catoira we saw the Ría de Arousa to Vilagarcía de Arousa, a large-ish Ría-side city which looks better from high above so we drove to the mirador atop Monte Lobeira (5km from Vilagarcía) and took several snapshots of the terracota roofs lining the ría. VERY nice, but takes about 1 hour to drive up, down, and take photos. We took the UNmarked road down and found this to be MUCH more interesting as we drove through the fringe villages of Vilagarcía.
By now it was about 2pm about and we were on our way to CAMBADOS (www.Cambados.com. We were a bit worried that it would be impossible to find a place to sleep that night, being Semana Santa and all, so we stopped at the boardwalk, took out our guidebook, and called a couple places in the "NEW" downtown of Cambados. We found rooms at a couple of the "hostales" listed and decided to just leave the car and walk through the streets to see the town and in hopes to find someplace better to sleep. We walked through the old part, seeing MANY family crests on the buildings and looked for a place to have lunch too. Working our way to the old, main plaza, we found a place for lunch which looked good and typical, called "Vinos y Tapas" on the main street from the plaza. As we stood near the door looking over the menu behind glass, we looked across the street to two dark, red, velvet blankets tossed over the balcony railings of the second floor of a building. At the base of that building there was an unassuming door on which was a single sheet of white paper which read, "HAY HABITACIONES" so we thought we´d take a look. Crossing the street and trying the door, it was locked. We thought there were closed for siesta, but gently knocked on the wooden entrance and were greeted 15 seconds later by an sweet, elderly woman who told us they did, in fact, have rooms available. We walked into the foyer and it seemed as if we were in someones private home, elegantly furnished and beautifully decorated, the old woman escorted us up to the first flight of all-wooden stairs and asked us if we wanted the room with two twin beds facing the main street. Ummmm... "No thanks." So she took us up another flight of stairs to a room in the back with a standard double bed, private bathroom, and a beautiful old armoir. She shouted to whom seemed to be her grandson who came scurrying with a confirmed price of 30 Euros ($27 US). WOW! I thought, THAT´S CHEAP for such a cute place in a great location about 5 doors from the main plaza. The "house" didn´t have any kind of sign advertising itself as a hotel, but the place was just perfect. I got a silly little chuckle when I saw the room´s door key was of the skeleton variety. I hadn´t seen one of those in years. AFTER "checking in", we went across the street to the restaurant we had earlier scouted and sat down next to the window on short, wooden stools at a beutifully polished wooden table and each had 2 delicious glasses of the dry, white, fruity albariño wine we knew was the specialty, and thusly pricey local wine. My ladyfriend knows this wine well already because her brother-in-law here in Madrid loves it and lived two years in Pontevedra, Galica. So, along with the Albariño, we overate with fried chipirones (squid), pulpo (octopus), and a little tortilla de patatas and finished with coffee.. WE WERE STUFFED and still had much to do after lunch. WE STAGGERED out of the restaurant, walked back to the car TOTALLY FULL and craving a much-needed, yet neglected siesta and hit the road south along C-550 through a multitude of small fishing villings and dozens of boats and many BATEAS (these are large, wooden, anchored platforms onto/from which they harvest/catch mejillones/mussels) floating about the waterways. After passing Sanxenxo (web: www.Sanxenxo.com), we took a small, winding road through the hillside´s trees due north to the medieval MONASTERIO DE ARMENTEIRA. I won´t tell the story of this monastery here, but it was really quite beautiful inside and so surprisingly cold that one could see his breath!! We thought several times while looking for the monastery that we had missed it... it took about 25 minutes driving to find it, but there were a few signs along the way. The sun was getting low in the tree-covered hilltop so we went back down, found the main road along the Ría de Pontevedra, and went further east as far as COMBARRO.
COMBARRO was one of the highpoints of all the small villages we had visited in Galicia. It is situated RIGHT on the water and at first looks like your stereotypical seaside town. But once you encounter the old, pedestrian neighborhood, which wasn´t marked with signs or directions of any kind (this surprised me, but my ladyfriend simply said, "COME ON! You only need to ask someone!!! -- something men HATE to do), you see a different side... BUT CERTAINLY NOT "The Road Less Traveled". I think I was probably the ONLY "American" there, but this totally pedestrian neighborhood was bustling with Spanish tourists and townspeople (I assumed). The part of Combarro has Hórreos lined up along the shorts of the ría and are especially cute from the beach....along which you can easily walk when the tide is out. The streets are narrow and the houses are old, but it´s something to definitely see. After our walk, we stopped near a boat dock at a bar with small terraza called "Aquí, Te Espero" ("I´ll Wait For You Here") where I had my first Galician beer, Estrella Galicia. It was good, if just a little bitter, while we shared olives and watched the masses taking their evening paseos/walks along the waterfront sidewalks and saw the nearly full moon rise over the landmass across the water towards Pontevedra.
So now it´s dark and we have to get back to Cambados (I STILL confuse the two towns´ names all the time -- Cambados y Combarro). We arrive at Cambados and park the car in the square (Praza de Fefiñanes) next to the 17th century of the same name, Fefiñanes. It seemed to occupied as a residence still too! VERY nice!! We walked into the church on one side of the square for a quick look and then decided upon a resturant, Casa Torres, on another side of the square. Here, for another typical 2-hour meal, we had a nice dinner with Albariño white wine (1.20 Euros per glass), salad (4.21 Euros), local cheese (queso de tetilla - VERY good cheese!), calamares, and fresh gambas (steamed shrimp), all for $28.10 Euros, about the price of our room that night.. We thought the meal was a GREAT value and in such a cute restaurant in a fantastic location next to the palace. One last stroll through some of the streets at midnight and we were ready for a much needed night´s sleep. Oh, one point, at our "hotel", we had to ask them to turn on the radiator heater as it was a bit chilly, but they were happy to do it for us.
[3/29] (written after returning to Madrid): Brrrrr!! What a freezing cold shower I had this morning! I got up first, it was still dark-ish, and got into the tub/shower to get myself ready quickly for a long day ahead which included seeing more of the Rías Baixas AND returning to Madrid. Wow. This was about to be a long day. After a "chilling" wake-up shower, my ladyfriend was next and I was surprised she was able to survive without shreeks of frostbite, but she was fine....BECAUSE SHE HAD HOT WATER!! ARGH!!! I´m only guessing that they turn on the hot water heater AFTER 8am. Oh well.. it woke me up, that´s for sure. We had a quick, light breakfast of croisants and coffee at the café across the street, next to the restaurant where we had lunch the previous day, and then I returned to "check out" by leaving the key on the bedside table and telling the granddaughter-in-law we were leaving. She was very sweet and I felt SO fortunate to have found this little gem for lodging. So we loaded the car, now it´s about 9am, and we drove inland, due-east, and then south on N-550, straight through Pontevedra without stopping, and continued on through Redondela, then west straight past Vigo and took the main highway SOUTH which hooked west to the Ría-side resort town of Baiona. We liked BAIONA, mainly for its medeival, walled CASTILLO DE MONTERREAL and incredibly beautiful Parador, PARADOR CONDE DE GONDOMAR. This castle was SO beautiful, so wonderfully preserved and covered palms and tropical flowers. The shore below only made us think of how incredibly romantic it must be to stay in such a place -- definitely a photographer´s dreamland. We stopped and sat at the parador´s outdoor terraza for a drink, but after 15 minutes of waiting we just used the restrooms and left again. hehehe..
We headed DUE south from Baiona, hugging the shore and driving through countless little villages until we reached the mouth of the Río Minho, the endpoint of Spain where it meets Portugal. We had arrived in A GARDA. A Garda was another no-so-pretty fishing village, but was worth a stop and a walk along the sidewalk, deciding upon a water-facing restaurant for lunch. We reached the end, deciding on a bar which seemed popular with the locales and offered all the seafood items one could ever want. We sat down at the only available table near the always-open door and had berberechos, a little pulpo, and some cheese. Now HERE´S a story... About the cheese! One bite of the COLD, MANCHEGO CHEESE and my ladyfriend said outloud, in English, "OH MY GOD! IT´S COLD! THEY PUT IT IN THE FRIDGE!!!!" This is a DEFINITE no-no with cheese, ESPECIALLY Manchego cheese. She was totally upset and hardly touched it. ANYWAY, we had this otherwise good meal with more Albariño wine, our last, and savored it there on our last day in Galicia. After lunch, we took the road slightly south and up, up, up to the excavated Celtic castro on Monte Santa Tecla, inhabited in the 7th century B.C. up to the Roman period. These closely connected, circular walled huts are an interesting archaeological site and well worth the drive up the mountain. Plus, you can see Portugal across the river.
After visiting the castros, we went down and back up the Río Minho to TUI, one of the 7 ancient capitals of Galicia. We really liked this town for it´s old church and perch upon the river´s hill. We only took a short walk around town, had a Coke at a small terraza in the old neighborhood, and then took the old iron bridge, built by Gustave Eiffel (who built the Eiffel Tower in Paris), across the river into Valença do Minho, a lovely Portuguese walled town. I was REALLY surprised there was no border control whatsoever. I think we both agreed that visiting Valença, even for only a couple hours, was well worth it and another high point of our trip during Semana Santa. The walled town was really... well.. ancient, impresses, and everyone had total access to all parts.. the town had abazaar like atmosphere and it´s known for it´s busy streets and huge selection of... cheap towels.
We said our goodbyes to Portugal AND Galicia and started the long.... long... long drive back to Madrdi. By now it was about 6pm and we had a couple hours of good sunlight while driving, taking only main highways all the way, encountering rain for a good 3 hours making the nighttime drive difficult. As we neared central Spain, we saw many many illuminated churches and castles along the highway... almost too many to count, we arrived in Madrid at about 12:30am very tired and happy to have so many beautiful, wonderful new memories of a part of Spain neither of us personally knew before.
---
© Copyright 2002 - 2008 Martin Media, S.L.