Posted by:

MadridMan

Private Car Transport Apps & Madrid Taxi Strike -
08/12/18
04:53 AM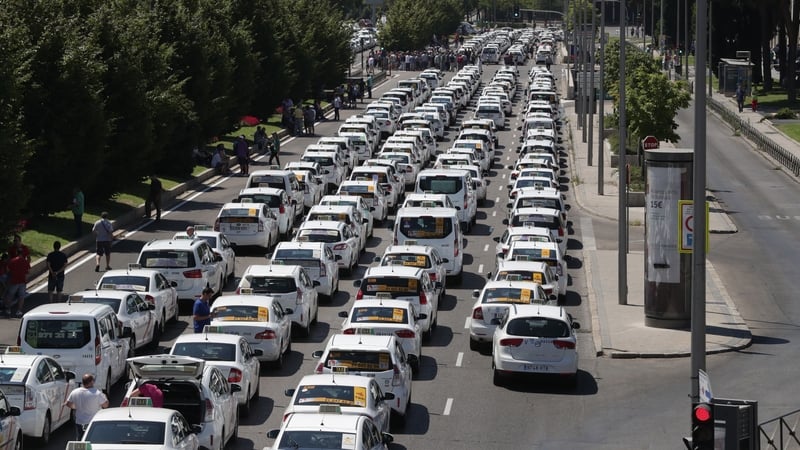 The 2018 Summer Taxi Strike, which started in late July and ended in early August, was aimed at limiting the government's proliferation of private car transportation licenses given to companies like UBER, Cabify, and others, and thus limiting taxi competition.
On the 1st of August, some friends and I had to fly out of Madrid Barajas Airport. But because of the continuing (now ceased) taxi strike in Madrid - and throughout Spain - we had to go by Cercanías train to Terminal 4. This is actually a good option if you A) are not in a hurry, B) don't mind walking a bit with your full-size luggage, C) aren't traveling with children, and D) are looking to save money.
My first thought of the taxi strike against UBER and Cabify was, "Well, if the taxis are on strike, won't MORE people use these app-related services or be energized to do so more often in the future once comparing the two?" It seemed to be a shot-in-the-foot to me, but at least it brought attention to the issue - which is COMPLICATED.
Some say that the taxi organization is just another strong-arm sector which uses force to get what it wants.
Others say that a 160,000€ taxi license gives taxi drivers/owners the right to do pretty much whatever they want.
Personally, I think a set-price of 30€ to go to or from the airport (within the M-30 ring) is a pretty good deal and was a good initiative completed a few years ago.
I've never used any ride-hailing or taxi apps in my life, but know a lot of people do and enjoy their ease of use.
Has anyone here used these private ride-hailing apps in Madrid and can compare them to taxis?
Saludos,
MadridMan